Power to the Pensions! Japanese and NYC Pension Funds as a Force for Good Governance

Thursday, November 9, 2017 from 6:00 PM to 7:30 PM (EST)
Event Details


CJEB welcomes you to a symposium:
Power to the Pensions! Japanese and NYC Pension Funds
as a Force for Good Governance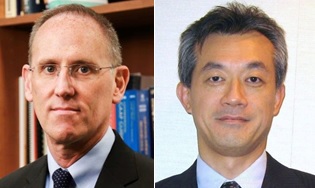 Featuring:
Michael Garland
Assistant Comptroller, Corporate Governance and Responsible Investment, Office of New York City Comptroller

Ken Hokugo
Director, Head of Corporate Governance; Director, Hedge Fund Investments, Pension Fund Association of Japan
Moderator:
Alicia Ogawa, Director, Project on Japanese Corporate Governance and Stewardship, Center on Japanese Economy and Business, Columbia Business School

Open Remarks by:
Hugh Patrick, Director, Center on Japanese Economy and Business; R. D. Calkins Professor of International Business Emeritus, Columbia Business School
Synopsis:
This symposium will cover the importance of Japan's Pension Fund Association (PFA) and NYC Pensions  as they invest in promoting more sustainable business practices. Together, the speakers will address specific strategies their organizations have developed to encourage better corporate governance among their portfolio companies.

Major Topics to be Discussed:
1)  New responsibilities imposed by the Japan Stewardship Code on investors
2)  Legal and regulatory environments affecting investor activism in Japan and the US
3)  Strategies employed by Japan's PFA and the Office of the NYC Comptroller to make their voices heard at the companies in which they invest


Biographies:
Michael Garland is Assistant Comptroller for Corporate Governance and Responsible Investment for New York City Comptroller Scott M. Stringer.  The Comptroller serves as investment advisor, custodian and a trustee to the New York City Pension Funds, which have more than $170 billion in assets and a long history of active ownership on issues of corporate governance and sustainability.  

Michael and his team are responsible for developing and implementing the Funds' active ownership programs for public equities, including voting proxies, engaging portfolio companies on their environmental, social and governance policies and practices, and advocating for regulatory reforms to protect investors and strengthen shareowner rights.  Recent initiatives include spearheading the Boardroom Accountability Project launched in fall 2014, which has helped to establish proxy access as a fundamental right at hundreds of U.S. companies.
Michael serves on the Council of Institutional Investors' Board of Directors and the Broadridge Independent Steering Committee, and is Comptroller Stringer's designated representative to the CERES board of directors. 


Ken Hokugo is Director, Head of Corporate Governance at Pension Fund Association of Japan.  A member of ICGN Japan Initiative Group.  Prior to joining PFA, he worked at the Sumitomo Mitsui Banking Corporation's ("SMBC" or "Sumitomo") Tokyo Head Office, responsible for designing and implementing the strategy for its global asset management business.  From 1995 to 2010, he worked at Sumitomo's New York Office, where he mainly worked on the special projects, from own M&A to major business collaboration with other firms as well as the research for the new asset classes, assigned by the management in Tokyo.  He also took on various portfolio management initiatives being mindful of shareholders' value as the CFO of Sumitomo's Americas Division.  Mr. Hokugo received his Bachelor's Degree in Economics from Keio University and MBA from Columbia Business School.  He also is Director, Hedge Fund Investments at PFA.


Advance registration is required.

General Contact: Emiko Mizumura, em2265@columbia.edu
Media Contact: Ryoko Ogino, ro2213@columbia.edu
Your presence at this event indicates your willingness to appear in any photos or videos produced by Columbia and by third parties. If this is an issue, please let us know. Thank you.
When & Where

Room 1501, International Affairs Building, Columbia University
420 W 118th St
New York, NY 10027


Thursday, November 9, 2017 from 6:00 PM to 7:30 PM (EST)
Add to my calendar
Organizer

Center on Japanese Economy and Business (CJEB), Columbia Business School
www.gsb.columbia.edu/cjeb 
Advanced Projects and Applied Research in Fintech (APAR), Columbia Business Schoolech