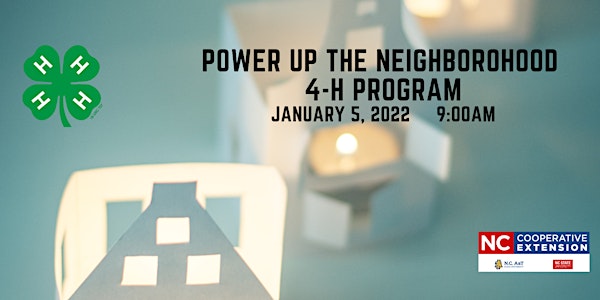 Power the Neighborhood
Learn about circuits, power systems sensors and coding while designing and building your own "powered neighborhood".
When and where
Location
N.C. Cooperative Extension, Currituck County Center 120 Community Way #120 Barco, NC 27917
About this event
The 4-H Electric Program is an informal hands-on youth program conducted by the North Carolina Cooperative Extension Service, professional 4-H agents, and adult volunteer leaders. They develop and deliver activities that provide youth with opportunities to learn about the fundamentals of electricity, renewable energy technologies, and energy conservation. Participants also develop an awareness for how energy is generated, distributed, used, and financed. A key focus of the 4-H Electric Program is the development of life skills such as critical thinking, problem solving, public speaking, and teamwork.
Currituck County 4-H is hosting a workshop on January 5th, 2022 starting at 9:00 am to 11:30 am for youth ages 11 to 18. This series of energy science and engineering design activities and experiments provides youth exciting opportunities to explore electrical circuits, power systems, sensors, coding and alternative energy. These activities invite youth to create and explore many different science and engineering concepts while designing and building their own "powered neighborhood". Youth will use problem solving, and troubleshooting skills as they tackle each situation,including creating and resolving a complete power outage in their neighborhood. This workshop series will continue each month throughout the school year so check our web page for additional scheduled workshops.
More information on other NC 4-H Electric/Energy programs can be found at (https://currituck.ces.ncsu.edu/2021/07/currituck-county-4-h/)
Currently, in-person classes for youth require masks to be worn for the duration of the class without exception. If you arrive without a mask one will be provided for you. We ask all participants to maintain six feet of distance while on the premises. We are following the current NCSU guidelines and mandates. If you are not able meet these requirements, or if you need accommodations for persons with disabilities please contact Stephanie Minton at (252) 232-2262 or by email at stephanie_minton@ncsu.edu no later than 10 business days prior to class.
NC State University and N.C. A&T State University commit themselves to positive action to secure equal opportunity regardless of race, color, national origin, religion, political beliefs, family and marital status, sex, age, veteran status, sexual identity, genetic information or disability. NC State, N.C. A&T, U.S. Department of Agriculture, and local governments cooperating.