Description
Join us at Wise Owl Drinkery & Cookhouse as we host a MORPHENOMINAL MOVIE MEETUP and bring together Power Rangers fans from all across the city!! We will have Drink & Menu Specials and give attendees a chance to mix n' mingle with others who grew up watching this popular 90s TV series that has spanned over 20 years...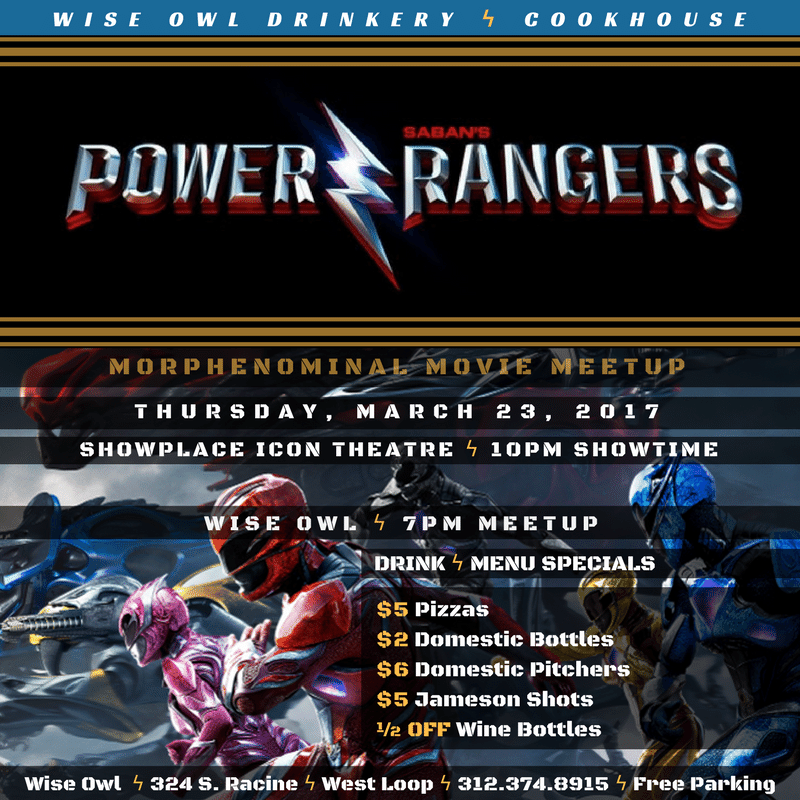 And after nearly 20 years since Turbo: A Power Rangers Movie (March 1998) debuted, we are closing in on a third installment of this much-anticipated Power Rangers Movie, by Lionsgate & Saban Entertainment; which is set to hit theaters Thursday, March 23rd!! The venue and showtime that our event host, Jermaine Christopher, has chosen will be the KERASOTES CHICAGO SHOWPLACE ICON THEATRE, located at 150 W. Roosevelt Road.

Although we welcome and encourage guests to MEETUP at 7pm, at Wise Owl, please note that it is the responsibility of each guests to provide their own transportation to the theatre. We will not be selling Advanced Movie Tickets, so we encourage guests to purchase their 10pm showtime ticket(s) online or once you arrive at the theatre. This is strongly encouraged for groups who plan to pregame with us before the movie.
PURCHASE TICKETS FOR 10PM SHOWTIME AT SHOWPLACE ICON THEATRE HERE
We encourage everyone to wear or bring any sort of Power Rangers attire or memorabilia if they like. We encourage everyone to come out, be themselves, have fun, meet sine cool new people, and FINALLY check out what will probably be, THE BLOCKBUSTER MOVIE OF THE YEAR!!

If anyone has any questions or concerns or ideas, please feel free to post it to the event page or reach out to our POC directly at Chris.WiseOwlChicago.Gmail.com
7PM: MeetUp, Mix N' Mingle at Wise Owl (West Loop)
9PM: Depart for Kerasotes ShowPlace Icon Theatre
10PM: Movie Start Time