Power Ranch - 1/2 Day Fall Break Robotics Camp October 9, 10, and 11

Wednesday, June 19, 2019 at 12:30 PM

-

Friday, June 21, 2019 at 4:30 PM (MST)
Event Details
Introduction to VEX IQ Robotics Summer Camp
 Grades 3 - 8

Whoever said, "Science, Technology, Engineering, and Math (STEM) can't be fun", never played with robots. Not an expert in robotics? Don't worry, we've got you covered. That's why we're here. At Innovation Tech we are "programmed" for fun and your family can be too!
½ Day Robotics Summer Camp
Grades 3rd – 8th
8:30pm - 11:30am
Wednesday, October 9th, 2019 - Friday, October 11th, 2019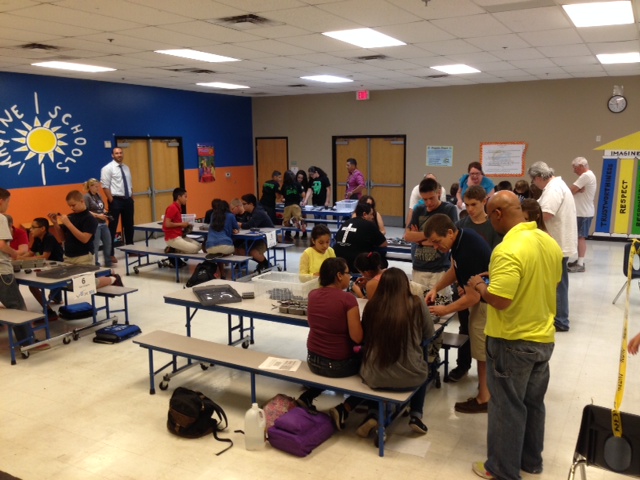 Working in age-appropriate teams' participants will practice working in teams, will be able to learn engineering principles, teamwork, and problem-solving skills while taking part in a robotics sporting event. The VEX IQ robotics platform is designed to be simple and easy for students to use to explore all aspects of STEM education. Structural pieces snap together and come apart without tools allowing for quick build time for prototyping, testing, and making modifications. A variety of gears, axles, wheels, and other pieces allow for complete customization of VEX IQ robots - the imagination of the young engineer is the only limitation.
The introduction to VEX IQ robotics workshop is intended for children who love building, solving problems, are interested in technology, and want to work as a member of a team to learn more about robotics. No prior experience with VEX IQ robotics is necessary.
Siblings, including infants, unless registered, are not allowed in the camp. Parents do not need to register but will be required to sign a waiver of liability on the first day of the session. The camp is taught by Shawn Hardina of Innovation Tech, LLC. 
What's Included
Learn about robotics and the design process.

Build and test their first robot.

Learn about gears and gear ratios.

Learn how to code using robot c software.

Study simple machines.

Complete with other Robo Fanatics in sports like robotics challenges.
Agenda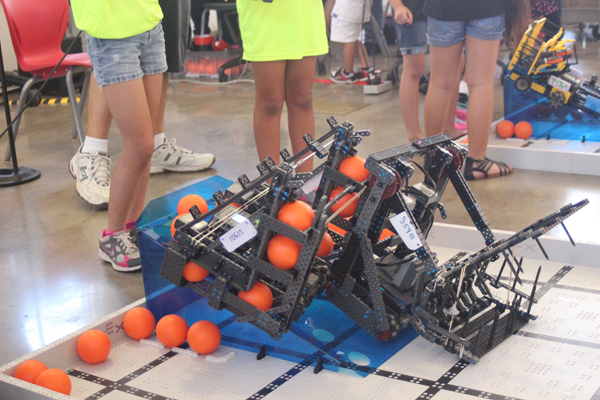 Wednesday: team building activity, introduction to robotics, form teams, and start building your robot and start the High Rise team challenge,
Thursday: continue building, test and redesign the robot, and finish High Rise team challenge.  Redign the robot to participate in the Robotic Olympics which will include the following challenges: Robotics Obstacle Course, Soccer, Capture the Flag, and Battle Bots.
Friday: Finish Gold Medal Rounds for each challenge.  Families are encouraged to attend the Friday robotics challenge.                                   
Frequently Asked Questions
Will there be coding or programming in this course?
This is an introduction to robotics course that focuses on teamwork, collaboration, the engineering design process, building, and driving robots.  We will not be programming the robots during this camp.
How can I bring a robotics workshop to my school or district?
Yes!!! That is one of our specialties. Please contact Shawn Hardina. Shawn can set-up the correct dynamic robotics workshop for your staff.
Shawn Hardina,  928-279-2018,  smhardina@gmail.com
How do I get a copy of an invoice?
You will receive an invoice in the mail shortly after registering and the invoice will be attached.
What if the course is canceled by the Innovation Tech?
In the event of a course cancellation, you would be notified and informed of your options including rescheduling to another course or you may receive a full refund.
What do I do if I need to cancel my registration?
All cancellations must be submitted in writing to the Innovation Tech at least 2 weeks (14 days) before the start date of the workshop for a full refund.  If you cancel within in 1 week (7 days) of the start day of the event you can only receive a refund if we are able to fill your spot.  No-shows receive do not receive a refund. In the unlikely event, a workshop is canceled, registrants will be reimbursed for workshop registration only or may choose another workshop or course date. 
Can we videotape the workshop for future professional development or other uses?
The Innovation Tech does not allow videotaping of workshops. You may take pictures of personal use.  The power of the Innovation Tech workshops requires teachers to experience the first-hand effective use of project-based activities. Watching a video on the workshop dilutes the impact of the training and subsequent implementation. Recording is prohibited unless special copyright permission is granted by the Innovation Tech.
Who can I speak with about special assistance I need to attend your workshop?
Please contact the RoboGym by Innovation Tech and we will do our best to accommodate your needs.
Can I exchange or return workshop materials?
Workshop materials are not included in the workshop fee. All materials remain the property of Innovation Tech. 
* Parents must sign a hold harmless and photo release prior to the class
* Workshops may be canceled due to low enrollment no later than the TWO days prior to the workshop's start. Canceled programs will be 100% refunded.
Have questions about Introduction to VEX IQ Robotics for grades 3 - 9: 6 Week course? Contact Innovation Tech at 928-279-2018 or smhardina@gmail.com
When & Where

Power Ranch Club House

4546 E Haven Crest Dr
Gilbert, AZ 85297


Wednesday, June 19, 2019 at 12:30 PM

-

Friday, June 21, 2019 at 4:30 PM (MST)
Add to my calendar