Sales Have Ended
Registrations are closed
Thank you for your interest in the Power Press Awards, and for showing your respect to the hardworking men and women in healthcare journalism. Registration for this event has ended, however feel free to reach out to our host for details of future events, or get more information on our website at http://www.powerpressawards.com. I look forward to meeting you in person at an upcoming event! All the best! dd Dennis Dailey, Host Power Press Awards ddailey@powerpressawards.com 803-702-0001
Sales Have Ended
Registrations are closed
Thank you for your interest in the Power Press Awards, and for showing your respect to the hardworking men and women in healthcare journalism. Registration for this event has ended, however feel free to reach out to our host for details of future events, or get more information on our website at http://www.powerpressawards.com. I look forward to meeting you in person at an upcoming event! All the best! dd Dennis Dailey, Host Power Press Awards ddailey@powerpressawards.com 803-702-0001
This lavish gala is for working PRESS and other invited guests only! Apply here. If approved, more details will be sent to you via email.
About this event
The Power Press Awards presentation and gala is an invitation-only event that recognizes, celebrates, honors and awards the very best of healthcare journalism.
Our special guests include widely acclaimed reporters, influential trade publishers, editors, social media ambassadors, and industry analysts.
This year, the gala will be held at Legal Seafoods Harborside in Boston on Monday, October 18, 2021, 5:45 - 8:00pm. It's perfectly timed to coincide with HLTH'21.
This event is FREE for working press and other invited guests.
If you have attended one of our events in the past, and would like to attend this gala, simply send us a message, and you'll get the link you need to register.
NOTE: If you have not attended the Power Press Awards in the past, a short application is required. If approved, you'll receive an email directing with a personal link to a private registration site where you will complete your registration to receive your free tickets.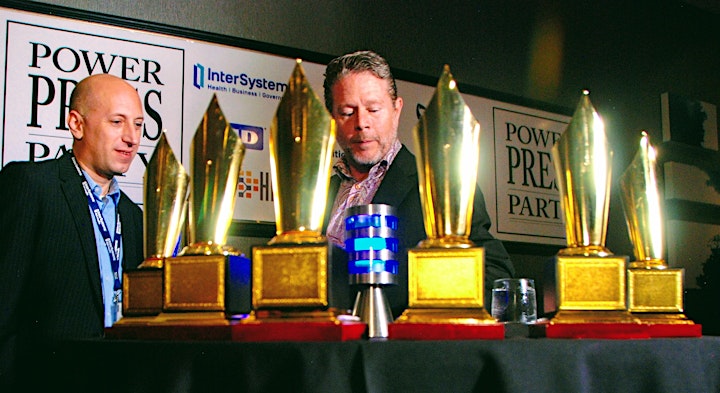 Organizer of Power Press Awards Gala