Description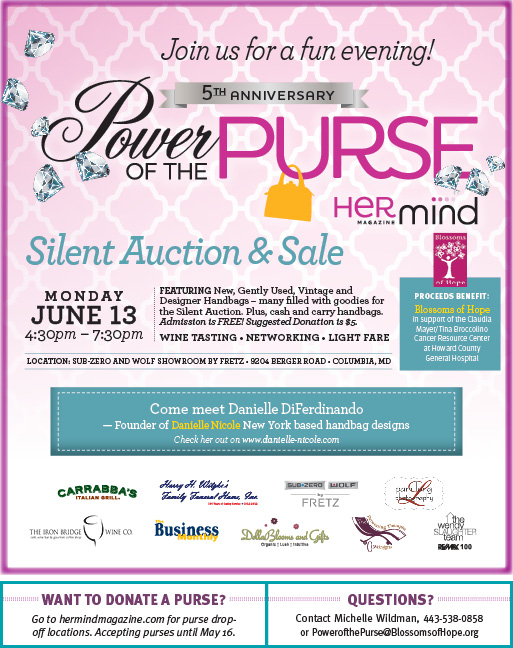 FAQs
Who benefits from Power of the Purse?
Proceeds from this event are given to Blossoms of Hope in support of local charities such as the Claudia Mayer/Tina Broccolino Cancer Resource Center at Howard County General Hospital.
Where can I learn more about Power of the Purse?
Please visit the Custom Media Options website.
How much are the tickets?
FREE! There is a suggested donation of $5.
Do I need a ticket?
You will expedite your admission if you bring your ticket to show your registration. Your ticket will then be entered for a chance to win one of our fabulous door prizes.
How much do the purses cost?
The majority of the 2000+ purses are priced between $5-$30, with a few exquisite designer bags selling for $50 and $95.
How does the Silent Auction work?
Auction purses and packages will be sold to the highest winning bidder. We have 120+ auction packages for you to choose from, including gift certificates, Father's Day items, spas, restaurants, golf, tennis, wine, and much more! You will be able to get some incredible deals, but you must be present to win.
Is there a limit to the number of purse I can buy?
Absolutely not!
What time does the auction close?
The auction will close in (3) sections, at 6:45, 6:50 and 7:00pm.
6:45pm: Section 1 is near the entrance, and contains Designer Purses only.
6:50pm: Section 2 is in the back left corner room, and contains both Designer Purses and Auction Packages.
7:00pm: Section 3 is in the back right corner room, and contains Auction Packages only.
Do I need to be present to win a raffle or auction item?
You do not need to be present to win a Door Prize or Raffle item, but you DO need to be present to take home your auction item(s) after the event.
How much are Raffle Tickets?
1 for $5, or 3 for $10. We have 2 amazing raffle items this year;
A Wolf Gourmet 10-Piece Cookwear Set, valued at $1299 and donated by Fretz
A leather, studded Coach Purse valued at $495, donated by the HCYP Raiders for Mary Ballman
Raffle winners will be announced at 7:15 near the Checkout area.
What kind of payments do you accept?
Cash, credit cards, and checks made out to Blossoms of Hope. Cash is preferred for the $5 Suggested Donation and Raffle Tickets.
Can I get in early to browse through the purses?
No. Doors will remain locked until 4:30.
Will there still be nice purses available if I arrive late?
Yes, the purses are constantly replenished throughout the evening, with high quality handbags in every batch.
What time does the program begin?
5:30.
What kind of food will be served at the event?
Carrabba's Italian Grill will provide some delicious Italian favorites, cooked on premise!
https://www.carrabbas.com/locations/md/ellicott-city
Will alcohol be served?
Yes. For the 5th consecutive year, Iron Bridge Wine Company is supplying wine for this event!
http://www.ironbridgewines.com/home
We also have a Signature Cocktail Sponsor this year, Amanda Bill with Clever Container!
http://www.clevercontainer.com/AmandaBill
Will you have a limousine shuttle like you did last year?
Yes! Thanks to the generosity of An Extraordinar Limousine Inc, our attendees will arrive in style. The 26-person Limo Shuttle will loop continuously from our front door to the remote parking lot further down Berger Road (across from Dolly's Car Wash).
Where can I contact the organizer with any questions?
Please contact Michelle Wildman at Powerofthepurse@blossomsofhope.org or call us at 443.538.0858.
Can I update my registration information?
Yes.
Header photo courtesy of Pam Long Photography www.pamlongphotography.com