Power of Place 2010: Virtual Gala

Saturday, December 4, 2010 from 8:00 AM to 8:00 PM (EST)
Event Details
Three Great Raffle Prizes - $10 / ticket
First Prize: 50 - 50 Raffle.  Win half of all of the raffle tickets sold!  You can use the money for your own revitalization project or to enjoy one of your favorite places.
Second Prize: Custom window screen painting services (up to $200).  Celebrate the tradition of Baltimore's neighborhood artists with a custom, hand painted screen by Anna Pasqualucci.  Visit www.paintedscreens.synthasite.com to see a collection of her work.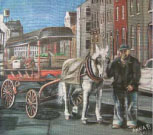 Third Prize: $100 gift certificate to Woodberry Kitchen.  Enjoy great, local-sourced dishes in one of Baltimore's best examples of reusing older buildings.  Visit www.woodberrykitchen.com for more information.
All proceeds go to supporting the pro-bono design and planning services that we provide to communities throughout the area - helping people improve their neighborhoods by reclaiming vacant lots and buildings, beautifying schools, improving parks and playgrounds, and strengthening business districts.