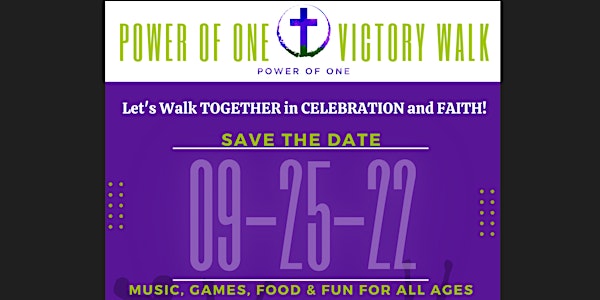 Power of One Victory Walk
A community event designed to bring about unity and encouragement. Join us for our Victory Walk!
When and where
Location
Caroline High School 19155 Rogers Clark Boulevard Milford, VA 22514
About this event
Power of One Victory Walk
Purpose/Vision
The Power of One Victory Walk is designed so that we can COME TOGETHER as a community, stand in SUPPORT of one another, and WALK into our VICTORIES by faith.
Victory is a journey and every step counts.
We want to support the idea of displaying the Power of One in good old- fashion community and family fun.
Power of One Ministries has embarked upon a collaboration of many individuals who are all dedicated to the purpose of encouraging and empowering people around the world. Since this is our home-base, we are bringing our movement here first.
There is nothing more powerful than declaring VICTORY over your life.
We will be collectively walking/running a 5K during this event. The laps will represent:
Unity
Celebrating our Youth
Overcoming Challenges
Achievable Dreams
Provision
Physical & Mental Health
Friendship
Legacy
Blessings
Resiliency
Victory
Power of One
Gather your family and friends! Share this event with your church! Invite your co-workers and neighbors!
Get creative with how you will show up as a team to walk in victory!
Date: September 25, 2022
Time: 3:00 pm EST - 6:00 pm EST.
Registration: $20 for adults, $10 for students, Free for children 5 and under
Group Registration: $15 per person with a minimum of 5 people on the team
Event Details:
A meal ticket is provided with each registration so that you can enjoy food from the concession stand. A portion of the proceeds will go to the Caroline High School Boosters Club in support of the work they do to support, encourage, feed, and finance supplies for our young athletes.
Music will be provided by PowerofOneRadio, Dj Host - The JRB
Event co-hosted by: Power of One Ministry TV Hosts, Spirit of Excellence LLC, and The Tribe
About Power of One:
Power of One Ministries is a non-profit faith-based ministry dedicated to encouraging and empowering people around the world in support of the Great Commission. Power of One Ministry has partnered with 11 other ministries to launch a Kingdom Take Over through all forms of media. As ambassadors of Christ, we serve the community through promoting connectedness, unity, and the uplifting of one another.
www.PowerofOneMinistryTV.com
www.PowerOfOneMagazine.com/Bookcase/cspuc
www.PowerofOneRadio.com (Also available as an app on your mobile devices.)