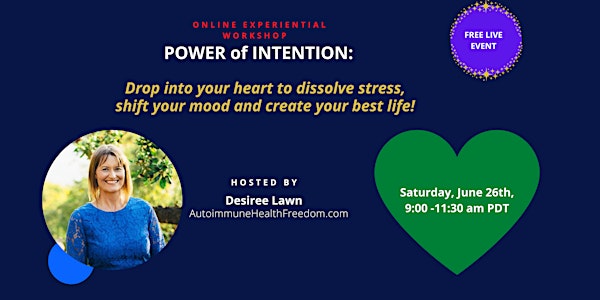 Power of Intention
POWER of INTENTION: Drop into your heart to dissolve stress, shift your mood and create your best life!
About this event
What if you could tap into your own power to create the life you want to live?
Join me for this 2.5 hour experiential workshop where we get to play and have fun discovering ourselves!
Experience fun and creative processes, tools and resources to get you out of your head and into your heart to feel relief, peace of mind and unlimited possibilities for your life!
What if you could:
💚Let go of overwhelm, and experience clarity and JOY?
💚Shift your mood in under 5 minutes anytime, anywhere?
💚 Create anything you want for your life?
AND...have FUN along the way!
Register today! Can't wait to see you there!
Saturday, June 26th, 9:00 AM - 11:30 AM PDT