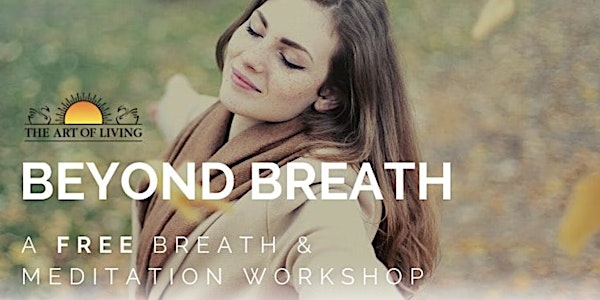 Multiple dates
Power of Breath - Introduction to SKY Breath Meditation
Discover the power of your breath to relieve stress, ease anxiety and calm your mind in a free LIVE and interactive session.
By The Art of Living Foundation
Date and time
September 1, 2022 · 3:30pm - December 28 · 4:30pm PDT
About this event
In the online 'Power of Breath' session you will learn how to use your breath to instantly get rid of stress and manage your emotions - right from your own home.
2020 has been a year of challenges, and yet it has also given us an opportunity to grow and seek inner calm despite the uncertainty surrounding us.
In this 60 min workshop you will get the chance to pause, take a breath and clear your mind with the help of a calming breathing technique and a guided meditation.
How breath helps reduce stress and anxiety
Breathing techniques improve circulation and blood flow to the brain, and activate our parasympathetic nervous system, which means that our brain gets the message to relax.
In this free workshop you will already learn a technique that you can practice daily to feel calm, centered and stress-free!
Learn breathing exercises that boost health and immunity
Science is recognizing that proper breathing is essential for health. Targeted breathing exercises can actually boost our immunity and improve our overall health.
It's important to learn how to do breathing techniques under the proper guidance of a certified facilitator, so that we practice them in the right way to get the full benefit.
During this free live workshop, you will learn:
✔ About the tendencies of our mind and how to overcome negative patterns using certain breathing techniques
✔ About the benefits of SKY Breath Meditation, a powerful technique that will remove deep-rooted blocks, quiet the mind and lead you into effortless meditation.
97+ studies conducted on four continents have demonstrated a comprehensive range of benefits of practicing SKY Breath Meditation.
SKY Breath Meditation is reported to be a fundamental tool for maintaining and improving mental health by the Harvard Medical School and International Journal of Yoga. This science-backed breath-meditation technique quickly calms anxiety, releases stress, and boosts immunity.
Independent research has shown that SKY Breath Meditation
Reduces cortisol - the stress hormone that supports the immune system, increases optimism, relieves anxiety, and depression, increases antioxidant production, enhances brain function (increased mental focus, calmness, and recovery from stressful stimuli)enhances well-being and peace of mind.
For any questions, please contact Nikunj at (917) 825-9505 or nikunj.marvania@gmail.com
or Hardik at (862) 588-0298 or hardikr586@gmail.com