Description
As part of our on-going commitment to our community's wellbeing via arts & culture-integration in Fort Lauderdale. We invite you, friends, colleagues, and loved ones...
Every Wednesday Noon - 1pm Power Lunch Yoga with Brynlee | a highly unique Art-Interactive Flow, in the 'Parallel Realities' art-installation exhibit by Maria Fasano at ArtsUP!
Restore, meditate, and empower yourself.

Bring a mat

$10 donation (501c3 Arts Org.) online or cash/card at door.
#artsupconcepts #FATVillage #Restartwithyoga#yogalove #yogalunch #vinyasa #meditate #yogapractice #lasOlas#FlaglerVillage #FortLauderdale #mindfulness #awareness#spiritualcreatives #lunchbreak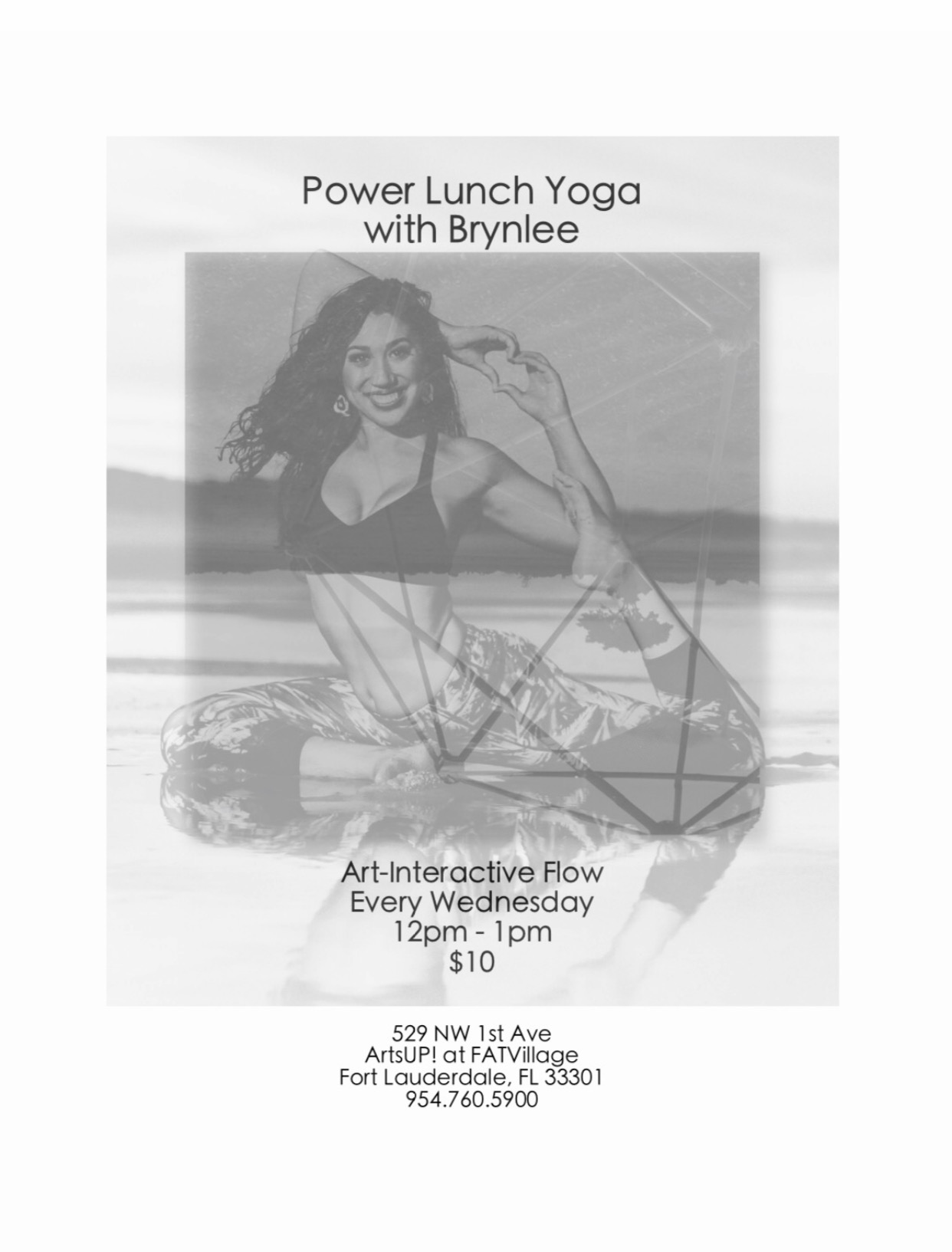 About:
ArtsUP! is a not-for-profit (501c3) arts concept space of FATVillage Arts District, Inc., housed in a 65-year-old industrial warehouse, in a district just north of downtown Fort Lauderdale.
ArtsUP! serves as a hybrid of concept, gallery and public space capitalizing on the architecturally unique characteristic of an otherwise sparse warehouse: the truss roof constructed of Dade County Pine 23' above. Visualize the volume of the 5500+ sq ft unobstructed space in upper & lower halves. The upper half is the ArtsUP! gallery filled with site-specific/responsive installation art. The lower half (to 12' high) is both an exhibition viewing area and community space for educational and other programming around the exhibition, and an event space for rent.
FATVillage is a four block city designated arts and creative district founded in 1998. The Village, comprised of more than 100,000 sq. ft. of buildings, is a cultural epicenter located in the heart of Fort Lauderdale, composed of creative businesses and art studios. We are home to a mix of artists, photographers, filmmakers, advertising agencies, graphic designers, galleries, urban planners, and a black box theater. FATVillage is an architecturally unique collection of industrial warehouses dating back to the mid-century in downtown Ft Lauderdale.