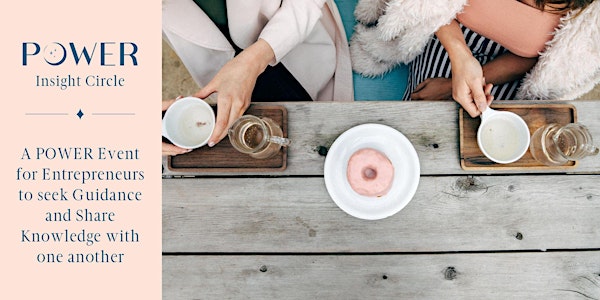 P.O.W.E.R. Insight Circle JUNE
Description
An informative way to connect with the P.O.W.E.R. community over a variety of hot topics.
June Insight Circle Topic " Identity & Inclusion "
A POWER Event for Women Entrepreneurs to Seek Guidance and Share Knowledge with One Another
Note: This event has been moved temporarily online via Zoom.

In-House 'experts': Jessica Velazquez & Jessica Williams
Insight Circle is a large Mastermind circle where we get to submit questions and answer together as a group with an incredible in-house expert.

In May Jessica Velazquez will be providing a talk on the subject of 'Identity & Inclusion' and Jessica Williams will be providing a talk on '3 Quick, Practical Tips for Being An Inclusive Leader, Entrepreneur or Small Business Owner'.
Imagine having a group of women that you respect greatly come together to discuss questions about current challenges. Then imagine those amazing women sharing their knowledge and advice!

This monthly meet up is designed to provide:

- A 15-minute relaxed flow prior to the event kicking off to network in the unique and heart-centered way true to the POWER monthly meetups

– Submit questions around a set topic (this can be done anonymously or not)

- A room full of Portland women thinkers, doers, and creators to bounce ideas off of - An opportunity to learn what other people struggle with generally and in their business (there is huge learning potential from other people's overall experience as well as current challenges)

- We rotate between PERSONAL and BUSINESS topics

**We are a heart-centered empowerment group that gathers to lift each other up and support each other on our endeavors with networking through intuition and love.

~ Erin xo

** There are no refunds however if you find you cannot attend for any reason please email hello@powercommunity.co at least 24 hours beforehand and we will transfer your ticket to a future event.

**Anyone who identifies as a woman is welcome. I use an inclusive definition of "woman" and welcome trans women, genderqueer women, and non-binary people who identify as women in a way that's significant to them.

** By purchasing a ticket each attendee acknowledges that the event is recorded and may be shared.