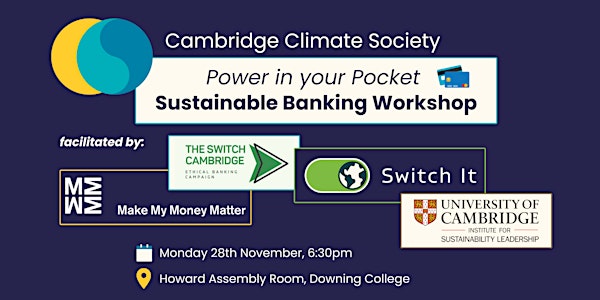 Power in your Pocket
Sustainable banking workshop
When and where
Location
Howard Assembly Room , Downing College Regent Street Cambridge CB2 1DQ United Kingdom
About this event
Power in your pocket encompasses the saying "putting your money where your mouth is". This workshop will focus on issues surrounding conventional banking and discuss the long term advantages of sustainable banking. The event will consist of introductory talks from speakers from areas of sustainable banking followed by round-the-table discussions to examine such topics in more detail. Discussions will aim to examine how banking affects global climate change and inform students where different banks invest their money.
The workshop will be facilitated by speakers from Make my Money Matter, Switchit Green, The Switch Cambridge and The Centre for Sustainable Finance, Cambridge.
As this is an interactive session, there will be a limited number of tickets available .