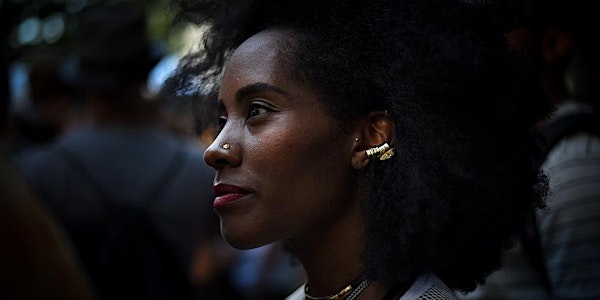 POWER: Black Joy & Resistance at the Historic Grand Lake Theatre
When and where
Location
Grand Lake Theatre 3200 Grand Avenue Oakland, CA 94610
Description
POWER: Black Joy & Resistance
pairs fireside chats with Alicia Garza, Daphne Larose, Ericka Huggins, and Fredrika Newton with images from the newly published picture book Black Joy & Resistance presented by Adreinne Waheed. The program is participatory with audience members playing an active role in its progression.
•
Black Joy Parade
Sunday, February 24
• The Fire Next Time: A Call & Response at
Betti Ono
What can be deemed as a visual representation of Maya Angelou's, "And Still We Rise," through her camera lens, Waheed's Black Joy & Resistance masterfully captures, "The Souls of Black Folks," and the majesty that flows outward when we tap into our true authentic selves.
Forward by Jamel Shabazz • Intro by Rhea L.Combs • Contributors: Derrick Adams • Faith Childs Davis • Staceyann Chin • N'Dea Davenport • T'ai Freedom Ford • Karen Good Marable • Kai Green • Claude Grunitzky • Zun Lee • Thokozani Ndaba • Tchaiko Omawale • Kevin Powell • Emil Wilbekin
Carnival in Salvador, Bahia • Afro Punk Festival, Brooklyn, NY • Afro Punk Festival, South Africa • Fees Must Fall Student Protest, Johannesburg, South Africa • Dance Africa at Brooklyn Academy of Music (BAM) • Million Man March (2015), Washington, DC • Labor Day Parade and at Soul Summit, Brooklyn, NY
ALICIA GARZA: Black Lives Matter co-founder; Founder of Black Futures Lab
DAPHNE LAROSE: Forbes Top 50 Most Influential Women in Tech; Founder of BlackFemaleCoders and Black Feminist Book Club
ERICKA HUGGINS: Black Panther Party Leader (14 years); Oakland Community School Director
FREDRIKA NEWTON: Black Panther Party member; Widow of Huey P. Newton
"I wish to live because life has within it that which is good, that which is beautiful, and that which is love. Therefore, since I have known all of these things, I have found them to be reason enough–and I wish to live. Moreover, because this is so, I wish others to live for generations and generations and generations and generations." – Lorraine Hansberry