Power Beauty Living Restore, Relax, Rejuvenate & Re-ignite Your Infinite Po...
Description
Are you ready to Power Up your Business, Beauty and Life? It's that time again for another amazing Power Beauty Living Event... And we've teamed up with the amazing Midori Verity, energizing relationship coach and best selling author, as well as Body and Brain Yoga for a weekend of rest, relaxation, restoration, rejuvention and re-iginition of your infinite potential!
Come join us as Power Beauty Living, Body and Brain Yoga, and Midori Verity bring you a weekend with the world's top Tao Masters at the beautiful Sedona Mago Retreat amongst the stunning red rocks of Sedona, Arizona.
Spend two nights and three days all inclusive of beautiful accomodations and delicious organic meals at the gorgeous Sedona Mago Retreat.
You will unlock the keys to:
1. Becoming The Creator Of Your Life
2. The 5 Steps To Mastering Your Power Brain
3. Learn The Secrets To The Ultimate Body Detox For Optimum Health
4. Deepen Your Inner and Outer Beauty
5. Learn Dynamic Mind/Body Healing With The Solar Body System
6. The Art Of Being Limitless
7. Go On Guided Meditation Walks Through Sedona's Famous Vortexes
8. Meet And Network With Like Minded People
9. Stay At The World Famous Sedona Mago Retreat
10. Enjoy Healthy Meals And Beautiful Accomodations
11. Have some "me" time to truly relax, rejuvenate and restore mind body and soul
Space is very limited so book now!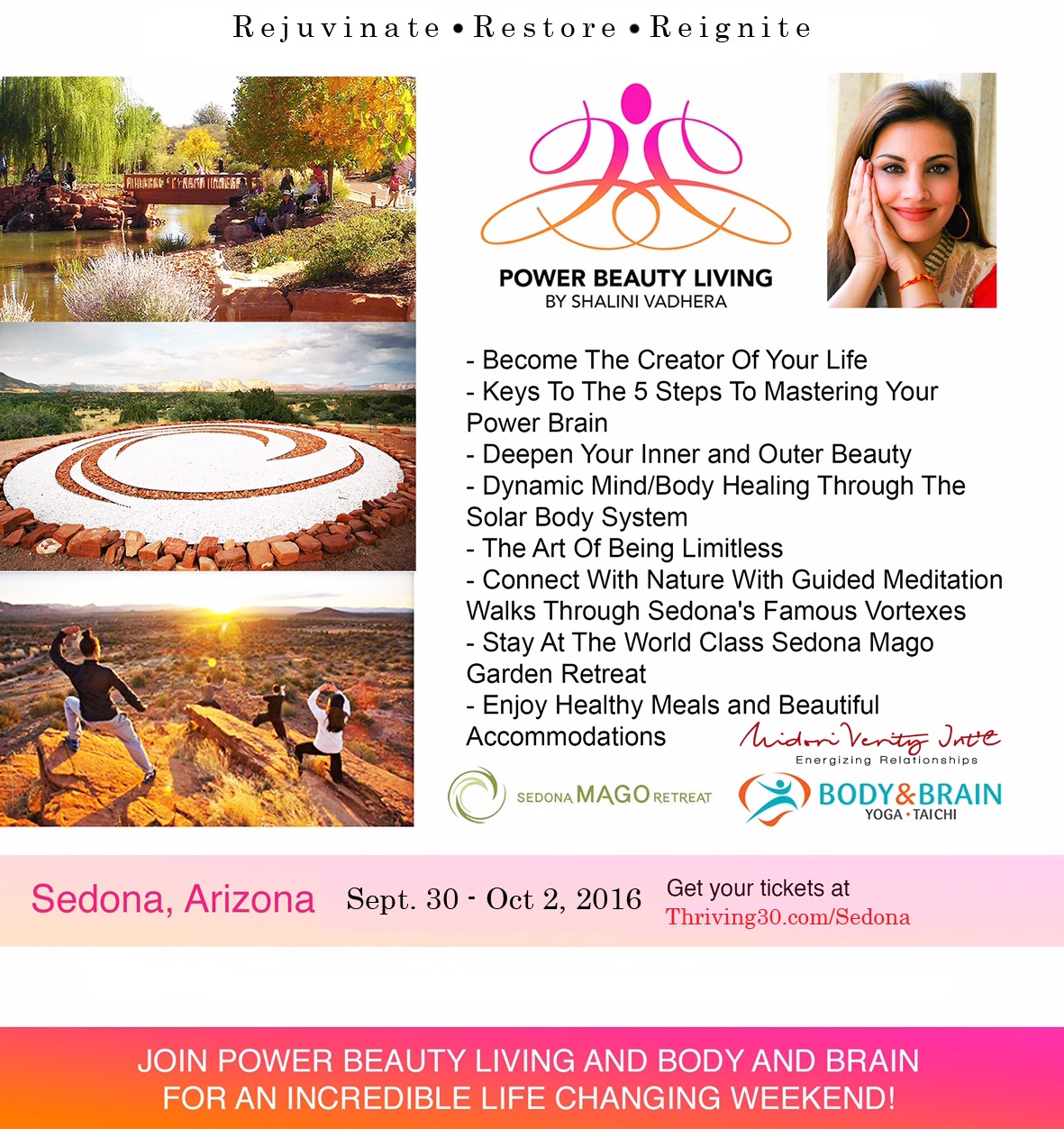 FAQs
What are my transport/parking options getting to the event?
We do not provide transporatation to Sedona, Arizona. We do provide shuttle service to the retreat if you are flying into Phoenix for an additional charge.

Online Shuttle Reservations and Contact Info
Coming to Sedona Mago Retreat by shuttle requires the use of two different transportation services. Shuttle services from Phoenix will drop you off in Cottonwood and from there an employee of Sedona Mago Retreat will pick you up.
For arrivals at Phoenix Sky Harbor Airport, book your shuttle reservation at Arizona Shuttle, or call 800-448-7988 or 928-282-2066. The fee is $41 each way.
Once you've secured your reservation with Arizona Shuttle, please fill out the Mago pickup form below. Our Mago pickup service from Cottonwood is offered free of charge.
When you arrive at the airport, go to the baggage claim area and find the "AZ City to City Shuttle Check-in" counter. This is where you wait for the shuttle. Same-day reservations are subject to delays and are not guaranteed.
Notes About Shuttle Services
* We usually pick you up at your scheduled pickup time, but depending on the overall schedule, you may need to wait a maximum of one hour in Cottonwood.
* Our last Mago pickup time in Cottonwood is 8:45 pm.
* Pick up location is the Arizona Shuttle office or the Best Western both in Cottonwood, AZ.
* Our earliest drop-off leaving Sedona Mago Retreat is at 5:45 am.
* Departure location is the Welcome Center and will drop off at either the Arizona Shuttle office or the Best Western; both in Cottonwood, AZ.
* If your flight is delayed or you miss your shuttle, call the Welcome Center at 800-875-2256 to let us know your rescheduled shuttle time.
* Please see the charts below that show each AZ shuttle's schedules and our matching Mago Shuttle times. Example: If you are on the 1:45 pm shuttle from the PHX airport we will pick you at in Cottonwood at 5:00 pm.
Shuttle Schedule
Depart from PHX AirportMago Shuttle Pickup6:15 – 9:15 am12:30 pm10:45 am2:00 pm12:15 pm3:30 pm1:45 pm5:00 pm3:15 pm6:30 pm4:45 – 6:15 pm8:30 pm
Depart from the RetreatDepart from Cottonwood Shuttle Office5:45 am6:45 am7:15 am8:15 am8:45 am9:45 am11:45 am12:45 pm1:15 pm2:15 – 3:454:15 pm5:15 pm
What are the driving directions to the retreat?
Sedona Mago Retreat is located 40 minutes southwest of downtown Sedona and 2.5 hours north of Phoenix. You can arrive by personal car or by booking shuttle services. If this is your first time driving to Sedona Mago Retreat, arrange your driving schedule so you can arrive during daylight hours because it goes through the National Forest and road signs and lighting are limited. If you arrive after 5:00 pm please arrange late check-in with the Welcome Center
Directions from Phoenix & Southern Arizona
Take Interstate Highway I-17 North for about 90 miles.

Then take the Cottonwood Exit (#287). Turn left and follow Hwy 260 West toward Cottonwood for 12 miles to the intersection of Hwy. 89A.

Turn right going toward Sedona. Go through two traffic lights and then you will see a brown sign indicating 761 or Bill Gray Road on your left side.

Turn left onto Bill Gray Road. You will see two large gold colored statues on your right and the Immaculate Conception Church on your left.

Continue on to an unpaved road on your right. This is Bill Gray Road. There will be a brown colored sign saying "761."
How to drive down Bill Gray Road (Forest Service Road 761)
Driving down Bill Gray Road for the first time can feel challenging; however, it can also be an invigorating experience. Let yourself flow with the natural vibration of the drive and take in the beautiful scenery around you.
Bill Gray Road is an unpaved forest service road. The road is bumpy. You may see several narrow paths to your right and left, but do not go down them. Stay on main road, which is the widest main path.

When you enter the unpaved road, set your travel odometer to 0.0. It will take 10.8 miles to drive to the retreat center—if you drive 25 mph, it will take 35 minutes. Although you may have only driven a few miles, it can feel like you have been driving a long time. Keep checking your odometer to see where you are on the road.

Around 6.5 miles you will see a fork in the road; stay on the right path. (On the left you will see a brown sign marker that says "258"; do not follow this.)

At 10.4 miles you will see a sign on your right for Sacred Mesa Trail. You will start to see the retreat center in the distance on your left.

At 10.8 miles you will see a sign on your right for Ilchi Road. Turn left at this sign, cross the cattle guard, and go approximately 1,000 feet to the Sedona Mago Retreat's main gated entrance. You will see a call box on your left. Push the "CALL button" to ring the Welcome Center attendant.

Once the attendant lets you in, make a sharp left and follow the signs to registration.
What are the accomodations like?
Our retreat accommodations include 120 casitas that are decorated in a style conducive for relaxation and meditation. To maintain this environment, the rooms do not have televisions or phones. Computers with Internet access are available in our lounge.
Each double casita features two comfortable full-size beds with plush coverings, a table and chairs, closet, mini-refrigerator, full bathroom/shower, and air conditioning/heating. Our casitas blend in comfortably with their natural surroundings staying cool inside during the spring and summer and warm during the winter. Private rooms vary depending on availability.
Our guest rooms are supplied with towels and soap, shampoo and conditioner. Any other items should be brought including toothpaste, lotion and hair dryers. Our pool and Jacuzzi are open year round so do bring your swimsuit. We supply pool towels. Coin-operated washers and dryers are available onsite.
Please note the following about our spiritual retreat center:
Alcohol-free and smoke-free facility

No meat allowed; vegetarian menu with seafood and dairy

No phones, televisions, or Wi-Fi in the rooms

Wi-Fi is available at the Welcome Center
What type of meals do you serve?
We serve organic delicious vegetarian meals. Some seafood and dairy is served as well.
Where can I contact the organizer with any questions?
You can contact Power Beauty Living and Body and Brain at 310-642-9642 or at p2bcurator@gmail.com
Is my registration/ticket transferrable?
Yes with prior authorization
Do I have to bring my printed ticket to the event?
No we will have all your information
What is the refund policy?
This event is non-refundable
For more info - www.powerbeautyliving.com and www.sedonamagoretreat.com