About this Event
The City of Powder Springs in partnership with Powder Springs Business Group presents the 2020 SpringsFest on the 4th (SF4th). This annual summer festival provides an opportunity for the residents and business community to converge on the town's square and celebrate our nation's independence at a festive, fun-filled family event. The event will take place at the new state-of-the-art Powder Springs Downtown Park.
Last year the community enjoyed tons of kids' activities, live entertainment, food trucks, giveaways, and a variety of artisan & local vendors. Endless fun awaits as our favorite clown returns with her giant bubbles, and 2 game trucks mean unlimited playtime for the kids, and kids at heart.
Live Entertainment: Last year's entertainment line up included national recording artists and local performers. This year the entertainment will be even better with nationally recognized performing artists headlining the event. Signed artists TBA.
The 2020 SpringsFest on the 4th introduces our exclusive VIP Garden located in a covered area near the front of the amphitheater main stage. It offers a bird's eye view to the on-stage performances and cooling relief from the summer heat. Hors d'oeuvres and an open bar are included with passes to this private area. Catering services are provided by Chef Larry of Dial's Catering - Featured Chef at the 2019 Atlanta Mayor's Ball & Preferred Chef at the 2019 Super Bowl. With an impressive lineup of recognized names in entertainment, the 2020 SpringsFest on the 4th promises to be a memorable experience for over 12,000 attendees and will climax with a spectacular fireworks show!
This is a great opportunity to Support Your Community!Become a Sponsor, Vendor or Volunteer.Sign up or More info at springsfest4th.comGiving Back to Our CommunityNon-Profit Beneficiary: Powder Springs Youth Foundation
Event Date: Saturday, July 4, 2020 | 12 pm - 10 pmVenue: NEW Powder Springs Downtown Park4485 Pineview Drive, Powder Springs, GA, 30127
Admission: Free to the public
Managed by Ricketts Rhodes Events. More info: sf4th@rickettsrhodes.com or 404.954.2576
#SpringsFest4th #SF4th #2020SF4th #July4th #Fireworks #thisispowdersprings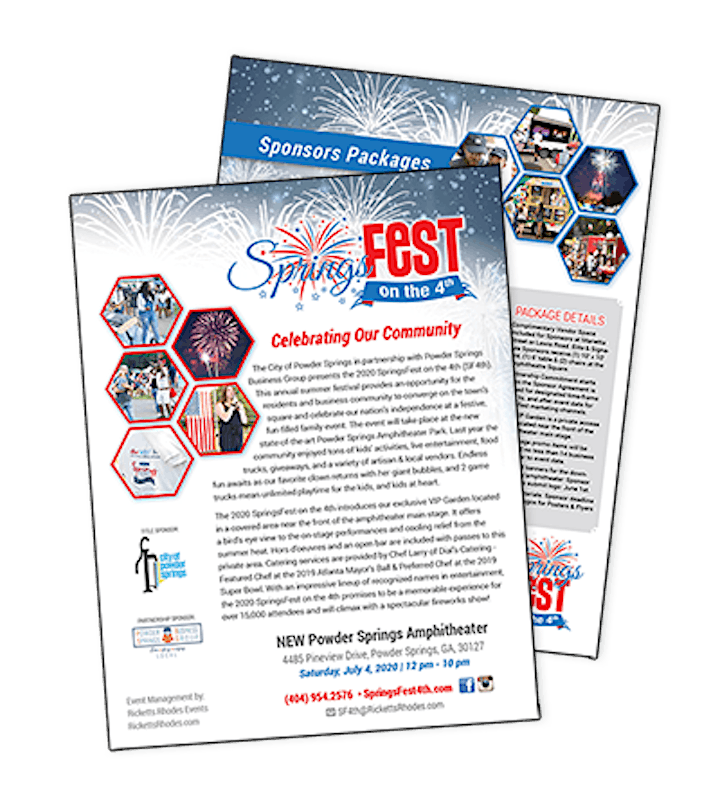 Become a Sponsor!
The Powder Springs Downtown Park will host numerous events throughout the year, such as the July 4th festival, summer music series, seafood fests and more. Now is the time to establish an ongoing partnership. Imagine your brand reaching over 68,000 Powder Springs residents. And with over 12,000 anticipated attendees on the day of this event, this is a great way to connect with the local residents.