Description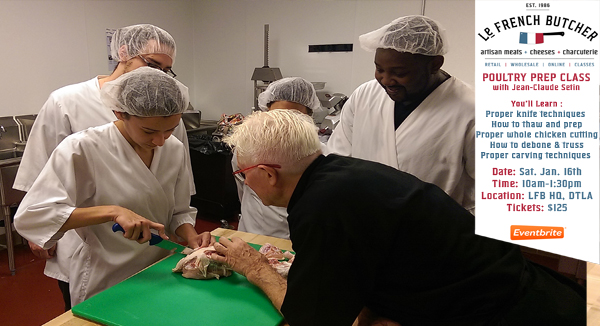 COURSE DESCRIPTION:
3.5 hours of hands-on instruction by Master Butcher Jean-Claude Setin on how to properly:
• Properly thaw & Prep a Farm-Fresh Chicken for roasting.
• Cut a whole chicken and marinade for grilling.
• Debone a whole chicken & truss for baking.
• Carve a cooked chicken
• Make a delicious bone broth from the carcass!
WHAT'S INCLUDED:
• All teaching materials & recipes.
• A bone-broth kit.
• 2 Rainbow Ranch Farms 100% natural chickens per student. (you will take home your handiwork!)
• Light lunch plate of delicious French Roasted Chicken
Rainbow Ranch Farms poultry is wholly pastured, free range, 100% natural, non-GMO, no corn, no soy, no wheat, no flax, no antibiotics, hormones or tetanus. Frankly, we think they are the best chickens we have found in the States!
HOW TO DRESS:
Very casual! Just a T-shirt and shorts or slacks as you will be wearing a smock as well. And comfortable shoes as you'll be standing for most of the event.
WHAT TO BRING:
Bring: a boning or paring knife from your kitchen that you feel comfortable using. Everything else will be provided. Come eager to learn, share, make new friends and have fun—because this is a super fun class and let's face it, cutting a chicken properly is the first thing every foodie should know!
ARRIVE 15 MINUTES EARLY:
Please arrive early to "suit-up." This is a commercial kitchen complex, so you will get to wear a smock and hair net just as if you were working in our kitchen!
About Le FRENCH BUTCHER:
Launched in July 2015, Le FRENCH BUTCHER is a multifaceted fine foods enterprise utilizing both the French reputation of culinary excellence and the talents of Master Butcher Jean-Claude Setin. LFB brings the finest in pastured meats, organic food products, humane farming & responsible butchery to an increasingly informed high-end demographic.