Description
FOR IMMEDIATE RELEASE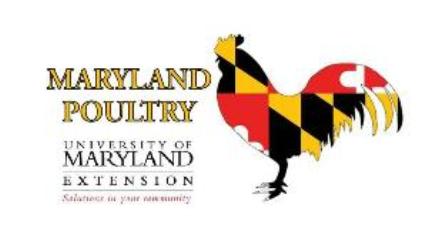 University of Maryland Extension
CONTACT: Jon Moyle or Jenny Rhodes
Poultry Farm Management for New & Existing Growers
The University of Maryland Extension is offering a one-day workshop for new and existing poultry farmers on Delmarva focusing on poultry farm management. With today's environment it is important to learn about the many aspects of poultry farm management.
The topics that will be addressed are farm management, site management and maintenance, best management practices, mortality, manure handling, litter management, windbreaks/vegetative environmental buffers, financial/recordkeeping, concentrated animal feeding operation regulations, nutrient management, comprehensive nutrient management plans, inspections and emergency preparedness. We will also share all the information in a memory stick to take back to the farm for future reference.
Certificate of completion will be awarded to each participant. This workshop is limited to 25 participants and there is a $5 registration fee, which includes a light breakfast, lunch, and memory stick.
Nutrient Management Credits will be offered.
Date: Wednesday, August 30, 2017
Where: Somerset County Extension Office (30730 Park Dr #4, Princess Anne, MD 21853)
Time: 8:00 am to 3:00pm.
Register here on Eventbrite by August 25 by clicking on "Tickets" above.
Questions? Contact Sheila Oscar at 410-742-1178 or email at soscar@umd.edu.
This workshop is open to all. If you need special assistance, please register two weeks before the date. Cost for light breakfast, lunch, and materials are being supported by Farm Credit. Please register by Friday, August 25, 2017. For more information, call or email Jon Moyle, jmoyle@umd.edu, 410-742-1178 or Jenny Rhodes, jrhodes@umd.edu, 410-758-0166.

Sponsored by
It is the policy of the University of Maryland, Agricultural Experiment Station and Maryland Cooperative Extension, that no person shall be subjected to discrimination on the grounds of race, color, gender, religion, national origin, sexual orientation, age, marital or parental status, or disability. If you need special assistance to participate in the program (including special dietary needs), please contact Sheila Oscar at the Lower Eastern Shore Research and Center, 410-742-1178.