Description
Give a handmade gift that keeps on giving in our next pottery workshop.
Clay artist Rebecca Boatman returns to North Haven Gardens to lead you in creating a 'Giving Plate', a simple clay plate that you can gift, filled with special treats and present to a friend or family. They in turn will fill it again, and pass it on to new friends. In this workshop, you will construct this simple plate form, and paint the clay in your own design with underglazes. Perfect for gifting during holiday entertaining!
$50. All supplies with glazing and firing are included. An ideal pottery workshop for those new to pottery, our workshop is limited to only 12 participants to allow for one-on-one instruction.
Please allow approximately 2 weeks for firing. Your finished art will be delivered back to North Haven for you to pick up, and you will be notified when they are ready.
Come inside our Classroom and create a special gift this season with us!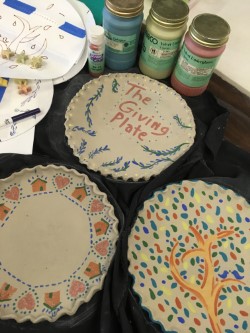 ---
Rebecca Boatman's work includes both sculptural and functional ceramics made in her studio in East Dallas. She participates in the White Rock Lake Artists' Studio Tour, the oldest artist's tour in the metroplex. Her sculptures are included in collections throughout the U.S., including Johnson & Johnson, Xerox Corporation, Eastman Kodak, and Volunteer Hospitals of America. Rebecca regularly offers art workshops at North Haven Gardens.