Postponed: World Ebony Network & Defense Attaché (Nig Embassy) Honor of The Brave Men and Women of the US Military

Friday, May 17, 2019 from 6:30 PM to 8:30 PM (EDT)
Event Details
First Annual Cultural Diplomacy Program, "An Evening of US Military Appreciation"
In Honor of the US National Military Appreciation Month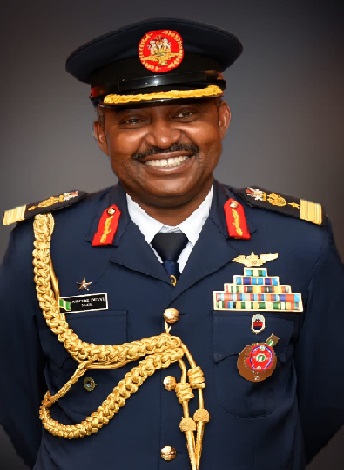 World Ebony Network (WEN) sadly announces
the passing away of the Defense Attache, Air Commodore Emmanuel Udenyi,
our partner and Chief-Host of the May 17th "Evening of US Military Appreciation" (a cultural diplomacy event), at the Embassy of the Federal Republic of Nigeria, Washington DC. He passed away this past Saturday, May 4th 2019.
This event is postponed in observance of and to respect the protocols of our partners:
The Nigerian Diplomatic Corp, the Nigerian Defense, and the family. With a heavy heart, WEN mourns alongside them and regrets any inconvenience this watershed may cause our RSVPd guests.
 You will be notified as soon as a new date is announced.
 Thank you
 World Ebony Network
                                                      ______________________________________
What Is The Event?:
May is National Military Appreciation month in the United States of American (USA) and WEN's Operations Thank you and Cultural Diplomacy program is celebrating this month in recognition of the following: 
Cultural diplomacy in shaping the military objectives of USA and its allies

Veterans and service men and women, including those of non-American heritages and those born to immigrant parents

WEN sponsored International Military students

US Soldiers in countries where WEN is located
Program Highlights
Organizer & Co-Host - World Ebony Network Thank you and Cultural Diplomacy program is Co-Host - Defense Attaché, Embassy of the Federal Republic of Nigeria
World Ebony Network, is one of the official sponsors of the International Military Students at Fort Lee, VA (students from so many African countries on a 6-month course) and information about them is on www.worldebonynetwork.com.
The Chair of the board of the organization is a retired US, Army Col and the Founder & CEO of the organization served the US warfighters as a DOD contractor (worked for over 17 years), where she was deployed, in 2011, to Afghanistan, Iraq, Kuwait, and Qatar.
The organization is a cultural competent, community resource, and charitable 501(c)3 organization that provides, as one of its offerings, services to the community under ten of its program areas, some of which comprises of Government Relations, International Relations, Education, and Family Life and Community among others. See http://worldebonynetwork.com/?page_id=1512
 To ensure appropriate feedback is received from your office, please note the following: 
You are allowed to bring as many people as you like but each person must register at the link above. Please note that this event is FREE

For proper coordination and accountability

, the RSVP registration receipt is 1 receipt per person not per office. For each office, every attendant must

register, print out, and show receipt

at the event entrance.

The registration RSVP deadline is Wednesday April 17, 2019
Have questions about Postponed: World Ebony Network & Defense Attaché (Nig Embassy) Honor of The Brave Men and Women of the US Military ?
Contact World Ebony Network
When & Where

The Embassy of the Federal Republic of Nigeria
3519 International Court, NW,
Washington, DC 20008


Friday, May 17, 2019 from 6:30 PM to 8:30 PM (EDT)
Add to my calendar
Organizer
Who Are We?
WEN's mission is to strengthen the black family and to appreciate the good aspects of other heritages. Our core vision is to re-examine history and to shape our current lifestyles with the fundamental core values of our forefathers. Thus, our organization provides an accountable and ethical framework to serve our communities where all peoples with different heritages can relate and understand one another (http://www.worldebonynetwork.com/).