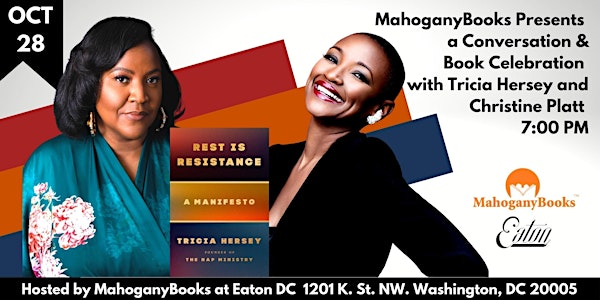 POSTPONED: Tricia Hersey, of NapMinistry Discusses Rest is Resistance
Special evening with Tricia Hersey, Founder of the Nap Ministry discusses Rest is Resistance with Christine Platt aka The Afrominimalist
When and where
Location
Eaton DC 1201 K Street Northwest Washington, DC 20005
About this event
POSTPONED UNTIL 2023. STAY TUNED.
MahoganyBooks is delighted to welcome Tricia Hersey aka the Nap Bishop to Washington, DC as she discusses her debut book, Rest is Resistance, with our very own sister friend and lauded author, Christine Platt fondly known as the Afrominimalist.
6:30 pm Doors Open | 7:00 pm Conversation Begins.
Masks required throughout the entire event. No exceptions. Thank you for your cooperation.
If you've yet to hear of the Nap Ministry movement created by Tricia aka, the Nap Bishop , then you are in for a powerful awakening and discussion around what it means to truly rest as a form of resistance.
About the Book: What would it be like to live in a well-rested world? Far too many of us have claimed productivity as the cornerstone of success. Brainwashed by capitalism, we subject our bodies and minds to work at an unrealistic, damaging, and machine‑level pace –– feeding into the same engine that enslaved millions into brutal labor for its own relentless benefit.
In Rest Is Resistance, Tricia Hersey, aka the Nap Bishop, casts an illuminating light on our troubled relationship with rest and how to imagine and dream our way to a future where rest is exalted. Our worth does not reside in how much we produce, especially not for a system that exploits and dehumanizes us. Rest, in its simplest form, becomes an act of resistance and a reclaiming of power because it asserts our most basic humanity. We are enough. The systems cannot have us.
About the Author: Tricia Hersey is an artist, poet, theologian and community organizer. She is the founder of The Nap Ministry, an organization that examines rest as a form of resistance by curating sacred spaces for the community to rest via Collective Napping Experiences, immersive workshops, performance art installations, and social media. Tricia is a global pioneer and originator of the movement to understand the liberatory power of rest. She is the creator of the Rest is Resistance and Rest as Reparations frameworks.
About our Conversation Host: Christine Platt is a modern-day renaissance woman also known as The Afrominimalist. She holds a B.A. in Africana Studies, M.A. in African-American Studies, and J.D. in General Law. An award-winning author of over two dozen literary works, Christine's most recent book, The Afrominimalist's Guide to Living with Less, is a radical re-envisioning of minimalism that focuses on authenticity over aesthetics. A resource for anyone seeking to discover the truth behind their overconsumption as well as how to let go of what no longer serves them, The Afrominimalist's Guide to Living with Less encourages us to be intentional, mindful consumers so our lives are filled with only those things we need, use, and love.
A big shout out to our amazing venue host, Eaton Hotel: 1201 K. St. NW. Washington, DC 20005
Event guidelines are subject to change.
Parking is limited. Ridesharing highly encouraged.
Books will be pre-signed already
Photographs may be taken during the event
Please tag us and use #mahoganybooks, #blackbooksmatter, #restisresistance on social media.
-- Let's have an amazing evening, The MahoganyBooks Team