POSTPONED to 10.18 Talk & Walk: Horseshoe Farm Nature Preserve Sustainable...
Description
Approved by GBCI for 1.5 CE Hour(s) for the following specialties SITES AP.
USGBC Triangle October Talk 'n Walk - Thursday October 18, 2017 4:00 – 5:30
Tour the beautiful Horseshoe Farm Nature Preserve and learn about the Sustainable Sites Initiative (SITES) certification program.
Followed by Green Drinks at:
Greenway Beer and Wine
7530 Ramble Way #103, Raleigh, NC 27616
The Sustainable Sites Initiative™ (SITES™) is a program based on the understanding that land is a crucial component of the built environment. In contrast to buildings, built landscapes and green infrastructure have the capacity to protect and even regenerate natural systems, thereby providing the beneficial functions of healthy ecosystems within our communities. This presentation will compare specific requirements of the SITES and LEED rating systems and include an example of how Horseshoe Farm Nature Preserve achieved SITES certification from the pre-design phase through post construction management.
Cost: $10 USGBC members, $15 Non-members, $5 students, Free for SITES AP's & Park & Rec Staff


Learning Objectives:
1. Understand which projects are eligible for and may benefit from achieving SITES V2 certification and how this path compares and contrasts with LEED V4 certification.
2. Understand SITES Section 2 pre-design requirements of an integrated team approach and comprehensive site assessment of existing physical, biological, and cultural conditions that will inform planning and design.
3. Understand SITES Section 8 long term operations and maintenance planning requirements intended to conserve resources and reduce pollution and waste throughout the life of the project.
4. Understand SITES Section 9 post-completion education and performance monitoring requirements to inform and educate the public about the project goals and sustainable practices implemented in site design, construction, and maintenance.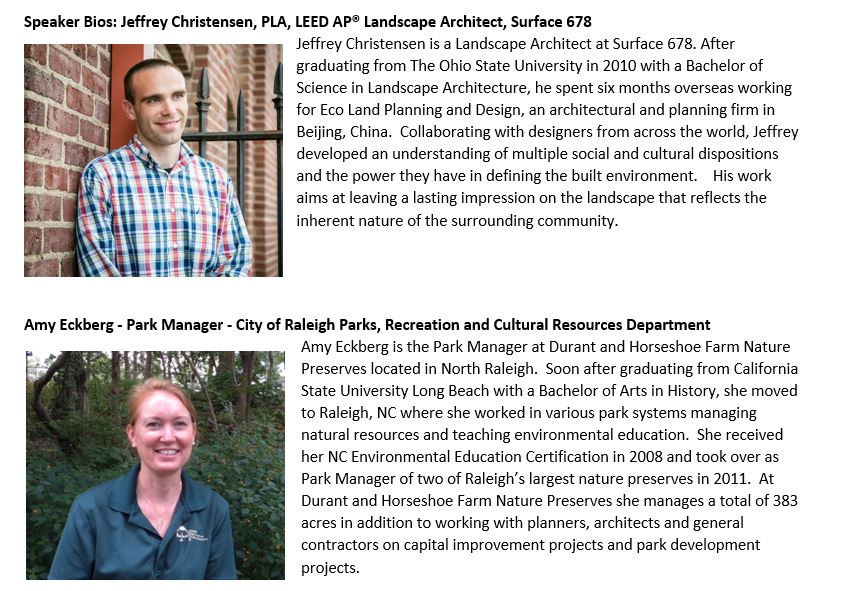 More about Horseshoe Farm Nature Preserve
Carved out by the meandering of the Neuse River, Horseshoe Farm Nature Preserve sits on a U-shaped piece of land in northeastern Wake County with exceptional natural and cultural resources. The Preserve is a jewel along the Neuse River; a place of great natural beauty, abundant wildlife and rich heritage. Horseshoe Farms' rich natural and cultural resources as well public input led to the concept of a nature preserve which guided the overall planning principal with the intent to preserve the existing character of the property and minimize the environmental impacts to the site. The Preserve was developed using sustainable practices and was selected by the Sustainable Sites Initiative (SITES) to participate in a new program testing the nation's first rating system for green landscape design, construction and maintenance. Sustainable features such minimizing site disturbance, eliminating the need to be connected to public utilities, implementing the City's first compost restroom facility, providing on-site stormwater management, protecting wetlands and riparian buffers, using native plants, regional materials, permeable pavement and solar lighting are employed at Horseshoe Farm Nature Preserve. We are pleased to have earned SITES certification at a two star rating.