Description
Dearest friends and supporters of The dg Foundation:
It is with heavy hearts that we've watched the toll that the recent fires have taken on our beloved Santa Rosa, Sonoma, Napa, Mendocino and Lake counties. Today, President Trump and the Governor of California declared a major disaster in the state of California in the counties of Butte, Lake, Mendocino, Napa, Nevada, Sonoma, and Yuba.
All of us at this stage, have relatives or know someone who has been personally effected

by the devastation of this fire storm. After the shock wears off, it is going to take some time to recover, and eventually rebuild the lives, homes and communities affected.
This said, The dg Foundation has decided to postpone the Orange and Blue Ball so that we can focus on the people and businesses that need our support right now. We will determine a date in the near future that makes sense to have the Orange and Blue ball celebration and will let everyone know as soon as possible.
After the event, to help with the relief, we will be donating 50% of the proceeds from your generous donations to supporting the victims most in need after this horrible natural disaster. Today and right now, nothing is more important than our immediate community, family and friends.
Please contact us with any questions.
Until then, we send our love.
-The dg Foundation




On behalf of The dg Foundation, we would like to invite you to the 2nd Biennial Orange and Blue Ball being held at the beautiful Castello di Amorosa, in Napa Valley, on Friday October 13th, 2017. The event is going to be a spectacular costume ball with a live performance from the legendary rock band Mustache Harbor, great food and fine wines at a world famous castle built in the Italian style of the Siena countryside.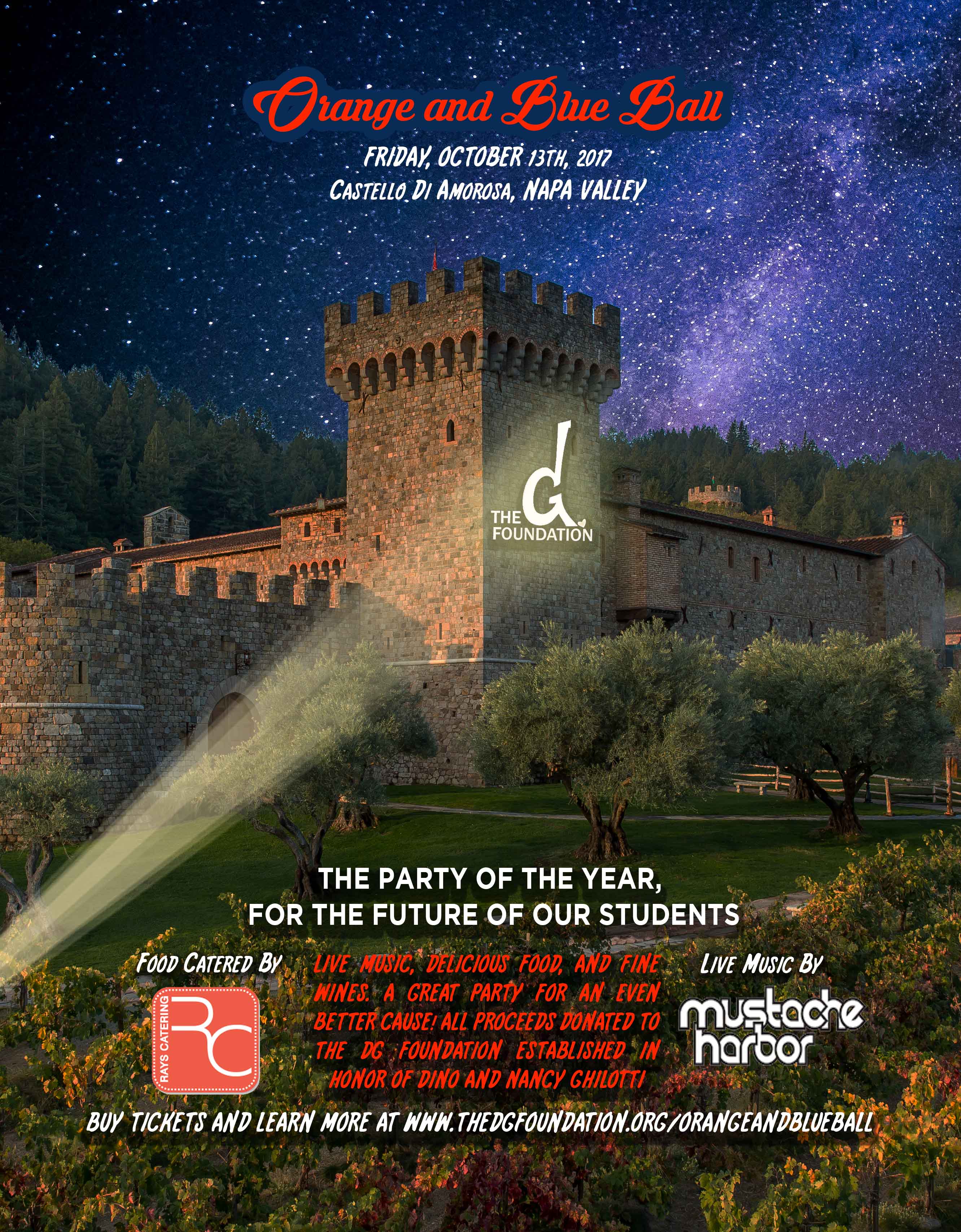 The dg Foundation is a non-profit organization founded in honor of Dino and Nancy Motta Ghilotti. The orange dg logo was designed by Dino in a graphic design class while attending the University of Miami. Dino and his mother Nancy had an ability to light up a room, and both had generous and caring personalities that touched so many people. To keep their memory alive, The dg Foundation was established to support students with similar passions as Dino and Nancy for academics, athletics, and arts. The dg Foundation awards scholarships to Marin Catholic High School, the University of Miami, and improves art programs and athletic facilities that fit the criteria of the foundation's mission.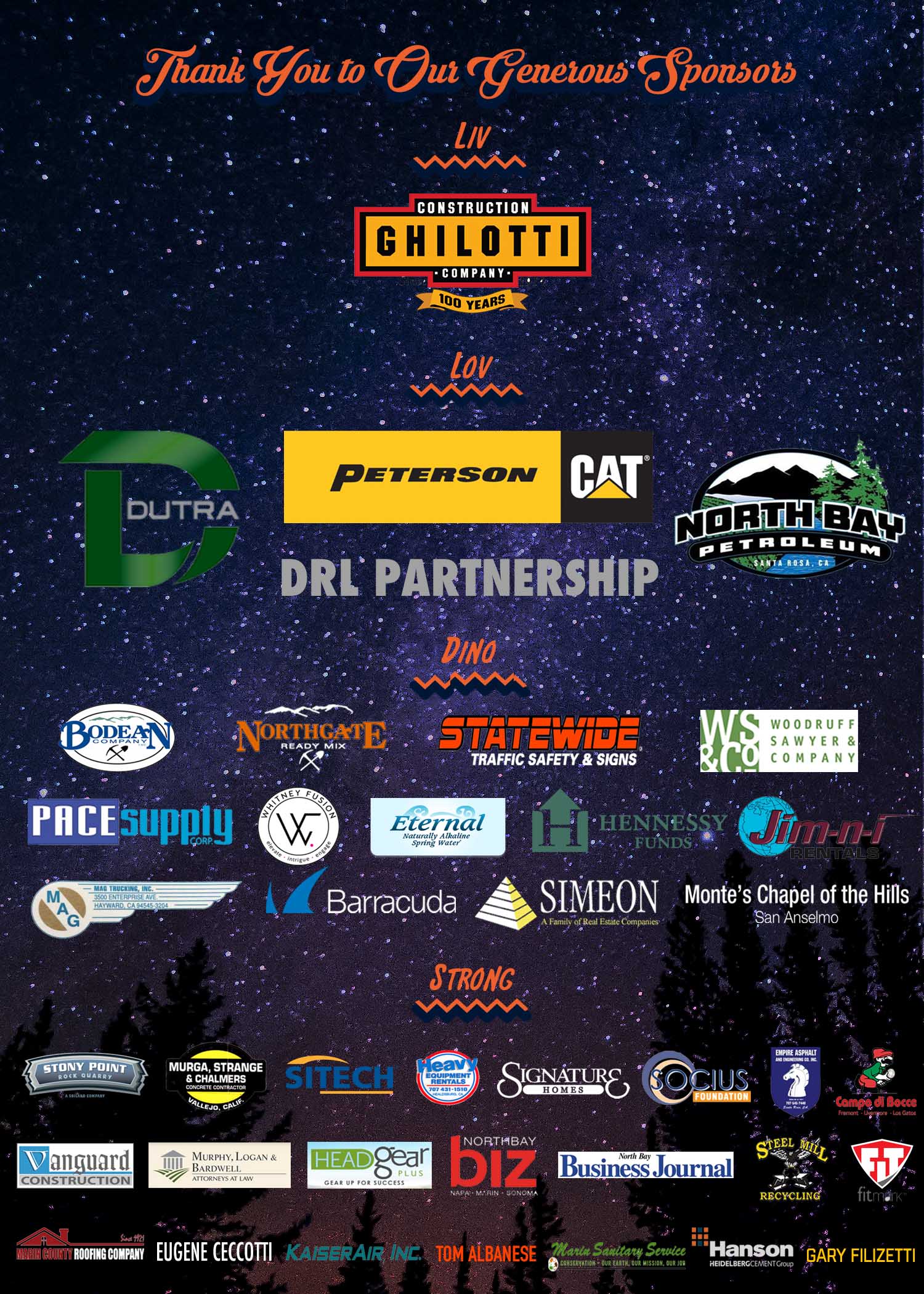 Dino was a great artist, athlete, student and a passionate friend. He was an exceedingly kind and humble young man who was open-hearted, inclusive of others, gave of himself freely and used art to creatively express how he perceived the world. His constant desire to help his peers inspired his family and friends to carry on his SPIRIT with this much needed foundation to help others in a similar way that Dino and Nancy would have.
Since its inception, we have collaborated with multiple organizations. Since 2014, the University of Miami has given out four Dino Ghilotti Motta 'Canes Care for Canes' scholarships to students from California. The dg Foundation, Ghilotti Construction, and a generous group of family friends were the major donors for the new Dino Ghilotti Motta Stadium complex at Marin Catholic High School. The dg Foundation is a proud contributor to the Dino R. Ghilotti Motta Visual Arts Center and the Nancy Ghilotti Motta Studio at San Domenico School, where Dino developed his passion for art. The dg Foundation was instrumental in the construction of Oma Village, an affordable housing complex for families transitioning out of homelessness in Novato. The dg Foundation donated the funds for Ghilotti Construction to perform the demolition and subsequent replacement of the accessible concrete walkways at the Children's Museum of Sonoma County. In 2016, The dg Foundation gave $50,000 to fund the Dino Richard Ghilotti endowed scholarship at Marin Catholic in Kentfield.
Thank you in advance for your support of this worthy cause. Your SUPPORT in this event is the indispensable factor that gives our foundation its strength and vitality to help students follow their DREAMS. Since the event is on a Friday during crush season and you plan on staying overnight, we suggest you book a hotel early as possible to ensure you have a place to stay over the busy weekend.
Sincerely The Board of Directors,
Richard W. Ghilotti, Willie Ghilotti, Rochelle Ghilotti, Michelle Ghilotti Mandel Josh Mandel, Matt Cappiello, Emily Fiel, Gregory Choma