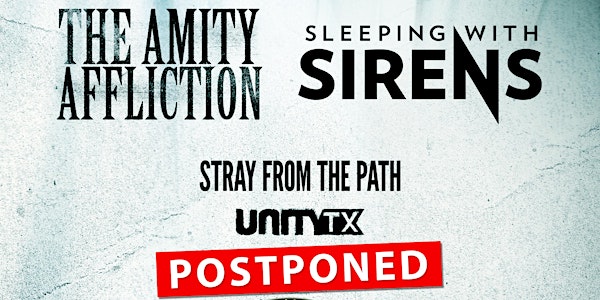 POSTPONED: The Amity Affliction and Sleeping With Sirens
ALL AGES
Presented by The Sherman Theater in Association with SLP Concerts
POSTPONED: The Amity Affliction and Sleeping With Sirens at the Sherman Theater
When and where
Location
Sherman Theater 524 Main St Stroudsburg, PA 18360
Performers
Headliners
The Amity Affliction
Sleeping With Sirens
More Performers
Stray From The Path
UnityTX
About this event
FOR TICKETS, CALL 570-420-2808 or CLICK HERE
A word from Sleeping With Sirens:
"This may not come as a surprise, but we have to announce that we have to postpone our upcoming tour with The Amity Affliction, Stray From The Path and UnityTX. The health and safety of everyone who attends our shows is of the utmost importance to us, and it is not possible to play these shows as scheduled, in order to follow the current social distancing guidelines.
This all may seem obvious, but we will really look forward to getting back out there and seeing you all.
We will announce new dates as soon as we can, and all previously purchased tickets and VIP WILL be honored for any and all rescheduled shows. In the meantime, stay tuned for updates and please practice the necessary precautions to keep you, your loved ones and our communities safe."
All Ages Admitted // 21 to drink with ID
General Admission: stand or sit, there isn't a bad spot in the house!
Reserved Balcony seating available for Sherman Theater Members only
For membership information, please contact members@shermantheater.com
VIP BOX: Sherman Theater Members $445 | Non-Members $525
SKYBOX: Sherman Theater Member $570 | Non-Members $650
FOR INFORMATION ON VIP BOXES AND SKYBOXES, CLICK HERE
While maintaining the passion, integrity, and unflinching honesty that has characterized their career, The Amity Affliction are striding into new territory. With Misery, their sixth full-length, the Australian unit have woven electronic elements and even bolder hooks into their signature sound, and they have done so with humbling confidence. "It was time for a breath of fresh air, and more so for us than anyone else. We're all really excited about the new direction, and we've made a record of which we're super proud," states vocalist and lyricist Joel Birch. "Our whole career, we've always felt that we've had to prove ourselves. We've had to prove we tour enough, that we're good enough, and we've never been given a handout. We've never really been supported by other bands taking us on big tours to help us get bigger. With this record we're standing here and stating here we are."
The reinvention is evident from opening track "Ivy (Doomsday)," swathes of electronics suffusing it, yet with its anthemic chorus, crushing breakdown and Birch's confessional lyrics, it remains instantly recognizable as the work of The Amity Affliction. Throughout the album, while they push their sound in previously unexplored directions and imbue every track with a distinct identity, everything they do remains fundamentally true to who they are, both as individuals and as a unit. "It was definitely somewhere that we were headed. Everyone's a bit older and musical influences change, and how we envision the band changed," explains Birch, who goes on to stress that they did not rely on outside musicians to help them realize this. "We always handle everything ourselves, and our producer Matt Squire helped us get the electronic stuff the way we wanted it. We came to him with clear ideas and placeholders of the sounds we wanted, and he helped us nail those down." While they retained the formula of guitarist Dan Brown writing all of the music, Birch providing lyrics and bassist/clean vocalist Ahren Stringer weaving the two together implemented on This Could Be Heartbreak (2016), the band worked more cohesively than on any of their previous releases. With the departure of drummer Ryan Burt, they also recruited Defeater drummer Joe Longobardi, and having worked with producer Will Putney on 2014's Let The Ocean Take Me and This Could Be Heartbreak they decided it was time for a change. "Will's amazing and a good friend of ours, but we were writing songs that we didn't want processed through a metal producer. We felt it would be a waste to try to go in this direction and have the same process applied to it, so we went with Matt and it was a super positive experience." Tracked at Buzzlounge Studios in Beltsville, Maryland and Noble Street Studios in Toronto, as far as Birch is concerned the most stressful part of the process was recording several parts with clean vocals, rather than solely the screaming that fans are familiar with. "I was full of self-doubt. I was coming out of the booth during pre-production like a frightened little lamb," he laughs wryly. "I was asking if it was okay, and everyone was telling me yes man, it's good, or we wouldn't let you do it!"
Having penned the heart-wrenching lyrics for This Could Be Heartbreak while caught in the throes of alcoholism and substance abuse, which only exacerbated the mental illness he has long struggled with, Birch wrote Misery over the course of the two years of sobriety that began just prior to the release of its predecessor. However, neither the band's successes nor eliminating alcohol made his depression easier to deal with, and the lyrics for Misery reflect the difficulties he continues to face in his everyday life. "There's been a lot of change and a lot of work to be done on who I am, and understanding who I am as a person without the addiction present. It will always be there, but I'm now living my life without substance abuse and all the things that used to define me, and made life difficult. I also had a really crazy relationship upheaval around the last record, but we worked through it and everything's great in my relationship now. But, shit doesn't just disappear. I find myself saying a lot on social media recently that success doesn't change your mental health, and music remains my way of moving past certain events in my life." For the most part, Misery is a record about addiction, and while rife with religious references, all of them ultimately come back to the role alcohol played in his life. Many of the songs are also aimed at Birch's wife, and his awareness of the pain his decisions have caused her. This is definitely the case on standout track "Drag The Lake", which is also about the cycle of self-abuse. "You can take a few turns in your life before you die, and I've definitely had a few in my time, and none of them made me sober. It was my wife that did it, but none of this was easy for her." The title track also addresses this. "That song is about me holding onto her but still feeling like I'm just floating along, unable to ever really get out of my situation. There's also the line 'misery loves company, that don't mean a thing to me,' because this is an everyday thing to me." However, it is stark album closer "The Gifthorse" that is perhaps most affecting, written following the suicide of Birch's close friend, Shane Collins of Brisbane band The Gifthorse. "The line 'There's a message at the bottom of this bottle and it's calling out to me' is his line. He wrote that. Dan wrote the music for that track fairly quickly after Shane died, and I heard it and said I want to put these lyrics to that song, and he said that's why I wrote it for you. It's a really beautiful thing that he did, doing what he could to help me at that point." Having admitted that all of his vocal parts for This Could Be Heartbreak were recorded while drunk, it was not until Birch listened back to the songs that he realized how bleak a place they came from, and how grave a situation he was in, which compelled him to enter AA. With Misery, all of his parts were tracked sober, though he candidly admits he was no more self-aware while in the midst of laying down his vocals. "It was a very abstract experience. I didn't really read the lyrics, I wrote them and put them away, and while I was in the booth I did it line by line. It's strange to be not very cognizant of what I'm putting out, and I've listened to the songs, but I haven't really let anything sink in yet. I know they're very dark, because when I was writing them I got a few emails and messages from people who had read them asking if I was alright. I don't think I've really processed them thus far, and I don't know why. I still haven't grieved properly for Shane either, this coming in just bits and pieces in strange circumstances. I'm sort of waiting for the pin to drop, and I feel like it's the same as far as my lyrics go. Maybe they'll affect me more in a year, who knows?"
Having been diagnosed as bipolar prior to embarking on the 2018 Warped Tour, Birch is hopeful that medication will help him better deal with the extreme highs and lows he has long faced ahead of the shows that will take the band around the world. While admitting that staying sober during the first year of touring following the release of This Could Be Heartbreak was difficult, and led Birch to cutting himself off from the rest of the band, such issues have since been resolved, and both he and his bandmates are looking forward to playing the songs on Misery to their fans. "This really is the most excited we've been with our own music in a while. It was funny, we always put records out every two years, pretty much like clockwork, and we were feeling like maybe we should make it three years after this, but while we were in the studio Dan was already saying how excited he was to write the next one!" Birch laughs. "And I'm getting more confident about my clean vocals too. 'Ivy' is the hardest song to sing and on Warped Tour that's worked out okay, so we're feeling good about this."
It starts at ground zero. By wiping the slate clean and turning the page to the next chapter, Sleeping With Sirens re-center, recalibrate, and realign on their fifth full-length and first album for Sumerian Records, How It Feels to Be Lost. The gold-certified quintet—Kellin Quinn [vocals, keyboards], Jack Fowler [lead guitar], Nick Martin [rhythm guitar], Justin Hills [bass], and Gabe Barham [drums]—amplify the impact of their unpredictable fretwork, velvet vocal acrobatics, and hypnotically heavy alternative transmissions without compromise.
In essence, the band strips itself to the core and uncovers what it sought all along…
"We needed to get back into a room and not care about the outcome," exclaims Kellin. "We needed to sit down and write something from our hearts we really love and believe in without regard for opinion. That's what we did. We didn't care about the result. We wrote one song, liked it, and moved on. Everything finally fell into place."
The time turned out to be right for them to do so.
Since emerging in 2010, Sleeping With Sirens have tested the boundaries of rock by walking a tightrope between pop, punk, metal, hardcore, electronic, acoustic, and even a little R&B. This high-wire balancing act attracted a faithful fan base known as "Strays," generated global album sales in excess of 1.5 million, ignited over half-a-billion streams, and achieved a trio of gold-selling singles: "If I'm James Dean, You're Audrey Hepburn," "If You Can't Hang," and "Scene Two-Roger Rabbit." They launched two albums—Feel and Madness—into the Top 15 of the Billboard Top 200. Additionally, they collaborated with MGK on "Alone" and Pierce the Veil on the gold-certified "King For A Day." Beyond selling out shows worldwide and receiving acclaim from The New York Times, Alternative Press crowned them "Artist of the Year" at the Alternative Press Music Awards, proclaimed "Kick Me" the 2015 "Song of the Year", and featured them as cover stars a whopping seven times.
However, everything came to a head during 2017. In the midst of the tour cycle for Gossip, Kellin found himself at rock bottom under a haze of depression and alcoholism.
Reaching a fork in the road, the future of the band hung in the balance.
"I let everything go," he admits. "I wasn't being the leader I had always been. For the last few years, I was struggling with alcoholism, depression, and anxiety. I didn't know how to turn it around or what to do. Being on the road and touring as much as we did for Gossip was really hard on me. I didn't know if I even had it in me to write another record or get on stage and perform. Something just happened one day. I woke up, called Jack, and said, 'Hey, I want to stop drinking. I want to go into a room and write the best record we've ever written'. Both of those things happened within a week."
With Kellin free from alcohol as of December 2018, he and Jack holed up at MDDN studio in Los Angeles and got to work. This time around, they welcomed longtime friends Zakk Cervini [blink-182] and Matt Good [Asking Alexandria] behind the board as producers. Jack cooked up "dark music" that immediately resonated with the frontman.
The whole process "felt organic," as he recalls. "The music reflected exactly where I was at."
As a result, the first single and opener "Leave It All Behind" exudes an undeniable sense of urgency. A buoyant riff seesaws between electronic echoes before converging on a vocal crescendo topped off by a hard-hitting scream and distorted crash.
"Sometimes, you get those thoughts," he sighs. "You wonder, 'What would happen if I wasn't here?' I put it into perspective. There are people who listen to my band. There's my family who rely on, love, and me. I realize it's important to stick around, because we can figure it out together. This is also a reminder for the youth to keep fighting."
The follow-up "Agree to Disagree" tempers a snaky bass line and a rush of vocals with a bold falsetto-punctuated declaration, "I like the nighttime, better."
"We can sit around and argue all day long, but it doesn't matter who's right or wrong," he continues. "We need to realize if we can't agree, let's find a way to coexist. We have to be open to understanding others, even if we're aren't one-hundred percent on the same page."
Elsewhere, the equally anthemic and addictive "Medicine" confronts Kellin's demons head on as it details "being up late at night drinking." The finale "Dying To Believe" extracts comfort from darkness beneath cover of strings and guitars with a "thank you" for the fans and reminder "to see the best in yourselves."
In many ways, the title, How It Feels To Be Lost, hints at actualization as much as it does potential.
"It felt like we finally found what we were looking for with this record," Kellin smiles. "The lyrics, the emotion, the musicianship, and the production are all there. It's the best we could do. It's going to be exciting to get on stage and perform these songs. We finally found ourselves."
In finding themselves, Sleeping With Sirens emerge with their most dynamic and definitive body of work to date.
"Certain records have saved our lives," Kellin leaves off. "They became staples that I put on. They got me through hard times in my life if I needed to scream or sing my heart out or just feel thrashing guitars and loud music. This album brings all of those sides together. I want this to be our anthem for new fans. To the diehards, we want this to do justice for you. It's what you've been waiting for."