Rockabilly Legend Robert Gordon & Rick Lindy & The Wild Ones Car show at 4PM Grab some dinner at 6:30PM Show starts at 7:30PM
About this event
***message from Robert Gordon***
I'm really sorry I have to postpone my show at the Brauer House on Sept 17 due to the Covid virus.
The show will be rescheduled asap.
Sincerely, Robert Gordon
PLEASE STAND BY FOR A NEW DATE
ALL TICKETS WILL BE HONORED
PLUS YOU CAN STILL USE YOUR PURCHASED TICKET TO ATTEND
THE RICK LINDY & THE WILD ONES SHOW THAT WILL STILL BE TAKING PLACE ON SEPT 17TH AT 7:30PM
By Arjan Deelen
On July 11th, 2003, I flew to Finland to see Robert Gordon live in concert. It had been nearly ten years since the last time, so I was excited about seeing the man perform again. The performance was to take place at a venue called 'Makasiinitt' in Helsinki, and when I told the cab driver he seemed a bit puzzled: "Are you sure that the concert is going to take place there?" Arriving at Makasiinitt, I suddenly understood his confusion. The 200 year-old building was traditionally used for storage, and looked like it was about to fall apart. The place seemed deserted. Upon entering the building, I saw a soundman setting up a P.A. We chatted for a few minutes, and to my relief he confirmed that Gordon was indeed performing there tonight. About an hour later, a couple of musicians wandered in, followed a few moments later by Gordon. I didn't recognize him straight away, partly because of the Buddy Holly-styled glasses that he wears off-stage these days, but also because he had gained a few pounds. The soundcheck was quite interesting to observe, as Gordon's sense of perfectionism seemed almost obsessive. They went through 'Look Who's Blue' various times, with Gordon walking around the room, suggesting small adjustments to the sound. At one point the soundman seemed quite satisfied, but Gordon still wasn't completely happy. So everyone continued until all the imperfections that could only be detected by Gordon's ears were eliminated. I didn't mind, because it gave me a good opportunity to listen to his powerful baritone, which really does seem to be getting better with age.
After the soundcheck, we chatted for a couple of minutes. Gordon quickly identified me as "the guy that always has that ad about me in Now Dig This," and asked me to come to the hotel with him. Both our esteemed editor and I have tried on several occasions to interview Gordon, with little or no success, but I really wanted to give it another shot, and this seemed like a good opportunity. Luckily, he was in a very talkative mood. At the hotel bar we discussed his life and career at length.
Heartbreak Hotel
Robert Gordon (1947), or simply "R.G." as his friends call him, grew up in Bethesda, M.D., a suburb of Washington D.C. Unlike many of his heroes, he had a relatively comfortable childhood: "My dad had a good job working for the government, so we never had to worry about money and things like that." 'Heartbreak Hotel' was the wake-up call for a new generation, and Gordon was no exception. Even though he was only nine years old in '56, he still clearly remembers the impact of hearing it for the first time, and adds that it is this song that made him want to pursue a musical career. Some of his other early influences include Jack Scott and Gene Vincent. As Gordon told "Rolling Stone" in their October 20th, 1977 issue, "Presley, Jack Scott, Gene Vincent… their songs really do something to me. I just can't explain it." The music scene changed drastically in the sixties, but much of it left him completely cold ("I didn't care for the British Invasion," he says). It was easier for him to identify with great soul singers like Otis Redding and James Brown, and he still fondly remembers seeing many great soul acts in "package" shows at the Howard Theatre in Washington D.C. CLICK HERE FOR FULL BIO
4PM CAR SHOW
6:30PM GRAB SOME DINNER
7:30PM SHOW STARTS @ AFTERLIFE MUSIC HALL
21+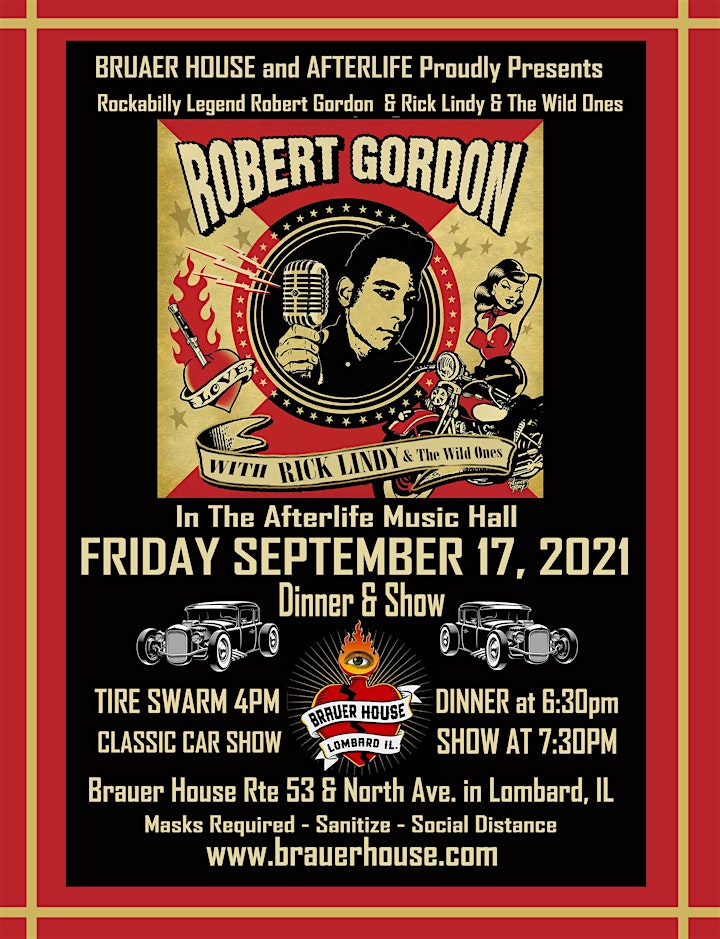 Performers
Date and time
Location
Refund policy
Organizer of [postponed] Rockabilly Legend Robert Gordon & Rick Lindy & The Wild Ones