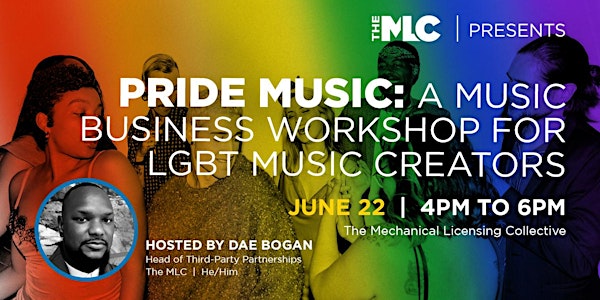 [POSTPONED] Pride Music: A Music Business Workshop for LGBT Music Creators
Hosted in-person by Dae Bogan, The Mechanical Licensing Collective presents a Music Business Workshop focused on the LGBT community.
When and where
Location
The MLC Headquarters 333 11th Avenue South Nashville, TN 37203
About this event
[EVENT HAS BEEN POSTPONED TO A LATER DATE - MORE DETAILS TO COME SOON]
This two-hour in-person workshop will consist of music business insights, education and strategies to empower LGBT songwriters, composers and lyricists with the knowledge and tools to become better self-advocates of their own careers. The workshop will also act as a structured platform to explore some of the issues that LGBT music creators disproportionately face in establishing a career in the music industry.
Dae Bogan serves as Head of Third-Party Partnerships for The Mechanical Licensing Collective (The MLC), where he leads The MLC's strategy for engaging third-party entities to support various initiatives, including Cultural Partnerships, which supports songwriters and publishers from historically marginalized and underrepresented groups.
***MLC Membership will be verified prior to attendance for attendees using MLC's Promo Code for registration.
In an effort to protect the health and safety of all guests, we will be requiring one of the following in order to access the event:
Proof of a negative test* result for COVID-19 on a sample collected within 48 hours of entering.
Proof of full vaccination** more than 14 days before the event.
*Acceptable tests include Molecular/PCR or Antigen tests (lab, rapid, or at-home tests included)
**Full vaccination includes the below series:
Johnson & Johnson/Janssen: 1 dose
Moderna: 2 doses
Pfizer/BioNTech: 2 doses
AstraZeneca: 2 doses
Sinovac-CornaVac: 2 doses
Sinopharm: 2 doses
We are working with Bindle to verify proof-of-health. Please follow the steps below to sign-up with Bindle:
Open this email on your phone to download the free Bindle app on the Apple App Store or Google Play Store. Search "My Bindle" and download onto your smartphone.
Create an account and upload your negative test results.
Search "The MLC: Pride Music: A Music Business Workshop for LGBT Music Creators" and select the event.
Follow the prompts to create your entry pass. For speedier access, please create before you arrive.
You are ready to go once your entry pass appears with a green circle and check mark, along with your photo. Please have your pass ready to show at check-in.
We appreciate you taking these few steps to promote safety for all.