About this Event
This event is free and open to the public. Some events require RSVP. See below for more. Otherwise, just rock up and enjoy the show!
PosterSpy is back for another annual Portfolio Contest: Winners Exhibition which we have now extended to a full weekend full of industry talks, workshops and also an exclusive film screening.
Friday Schedule (18:30-22:00)
Pop by Friday for the opening night, which will include free food and drink for all guests. Vegan and gluten free available. A great opportunity to network with other artists, creatives and poster fans.
18:30 - Doors open. Explore the gallery (and the winners)
22:00 - Doors close.
Saturday Schedule (10:00-18:00)
Join us on Saturday for a day of industry talks and workshops including a live mural drawing by artist Geo Law. At 12 Oxford Doodle Club will be come along for a sketching and movie poster workshop, which is completely free. Then at 3pm artist Ben Turner will chat about his work, including his transition to screenprinted posters. At 4pm, we will be revealing our new pocket art book by artist Dan Norris and then at 5pm we will have one more industry talk.
10:00 - Doors open. Browsing, Networking
11:00 - Geo Law - Live drawing session
Geo Law is a freelance illustrator who hails from the steel city of Sheffield and is currently based at Millers Junction in Dalston London. Geo works with a blend of references such as comic books, computer game characters and pop culture using mixed media all rooted in doodling.
13:30 - 14:30 - Freya Betts - Industry Talk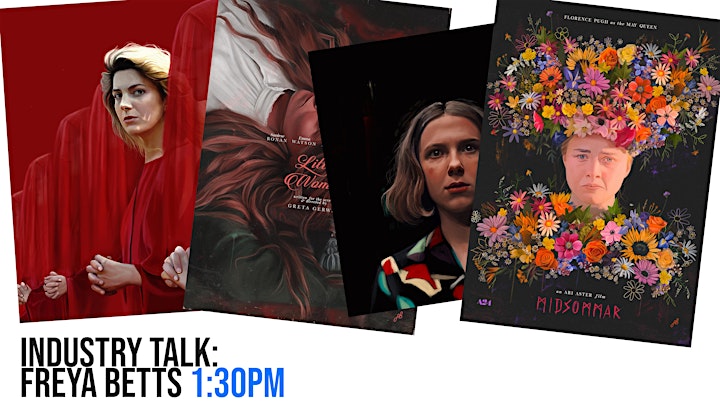 15:00 - 16:00 - Ben Turner - Industry Talk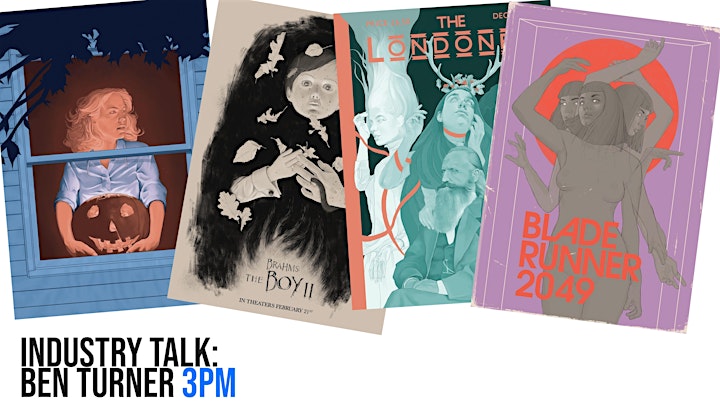 16:00 - Event TBC
17:00 - Event TBC
Sunday Schedule (10:00-20:00)
Sunday is brought to you by Zavvi Gallery, who specialise in screenprints and giclee posters for your favourite pop culture titles. Doors open at 10am so you can browse the gallery and settle in. At 12 we will be joined by Sam Gilbey who will discuss his work and his incredible career as a pop culture illustrator. At 1pm join us for food and print signings by Ben Harman and Dean Burgan. At 3pm there is a yet to be confirmed talk and then at 5pm wind down and enjoy a free screening of Back to the Future, but RSVP first, as seats are limited. Each attendee will get a free goodie bag!
Location: Basement
10:00 – Doors open. Browsing, Networking
12:00 – Talk 1 (45mins – 1 hour)with artist Sam Gilbey
13.00 – Food & Signings with artists Ben Harman & Nos4a2 Design
15.00 – Talk 2 (45 mins – 1 hour) TBC
17.00 – Free Screening of BTTF1 RSVP HERE (RSVP required - Seats limited to 40)
Each RSVP will receive a goodie bag which will include:
1x tote bag
1x Back to the Future Giclee poster by artist Caroline Vermeir
1x Back to the Future t-shirt
1x promo code for Zavvi online store