**Postponed** Parent Council Essentials 23rd January 2019 - Wester Hailes E...
Description
All parents from Wester Hailes Education Centre and surrounding schools are invited to this free event. Refreshments will be served from 6.15pm, the session will start at 6.30pm and last for 2 hours.
Parent Council Essentials is one of a range of information & training sessions Connect offers free to all its members. They have been carefully planned to provide parents with the kind of information they ask us for. All Connect sessions are run by our team of friendly and knowledgeable regional advisors, who have experience of working with parents, schools and local authorities.
All parents are welcome to attend the sessions which are run in an informal, parent-friendly way with plenty of opportunities for discussion and questions. They are a great chance to learn more about how to run your group effectively and also to meet other parents and swap ideas.
Parent Council Essentials is suitable for both new and more experienced Parent Council members. It is a whistle-stop tour of the role and responsibilities of Parent Councils – how they work, what they can get involved in. The session will give you lots of ideas for running an effective Parent Council: along the way we will answer some of your questions and might even bust a few of the myths surrounding parental involvement.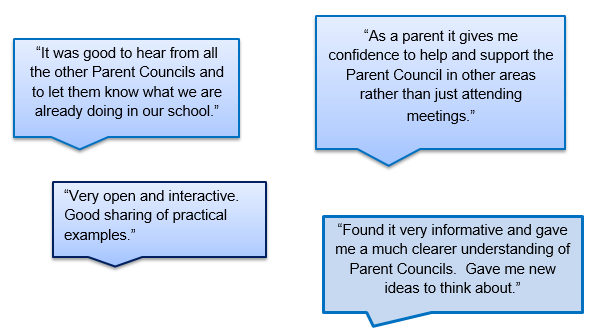 Organizer of **Postponed** Parent Council Essentials 23rd January 2019 - Wester Hailes Education Centre, Edinburgh
Connect (formerly SPTC) provides support to Parent Councils and Parent Teacher Associations across Scotland. We run free training sessions for parents and provide support by email and social media. We have lots of great parent-friendly resources to try and help parents make parental involvement in children's education as good as it can be. By registering for our event you agree to us holding your data in terms of our privacy policy which can be viewed at https://connect.scot/privacy-policy