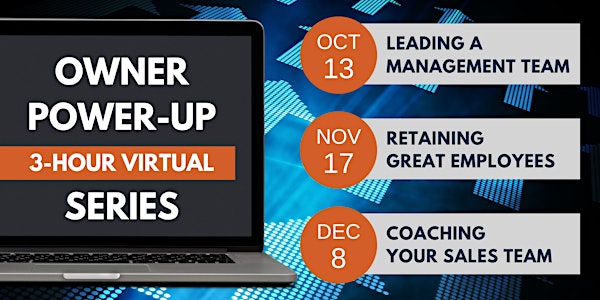 POSTPONED - Owner Power-Up series
Level up your skills so you can lead your company to a more prosperous future
About this event
BDR's Owner Power-Up series is a 3-part training series that delivers targeted content for owners to "power up" your skills in crucial areas. As your company grows, the owner's role evolves from a "doer" to a "coach." The transition is not an easy one and involves developing new skills and new approaches. Are you ready to lead a $20M plus company? Set yourself and your company up for success by gathering the skills you need now.
These 3-hour virtual courses – one each month in the 4th quarter of the year – are designed for busy owners, with no travel required. Give us a small slice of your day and we'll provide you with actionable strategies and proven processes to help you improve your personal effectiveness, drive enhanced results, and take your business to a new level of achievement.
The Owner Power-Up series consists of 3 virtual training classes in October, November, and December, with topics including:
Leading a Management Team - October 13
Retaining Great Employees - November 17
Coaching Your Sales Team - December 8
Fine-tune your skills in leadership, management, retention, employee development, and more!
Leading a Management Team
October 13, 2022
Do you have the team in place to support your company's future growth to $8M, $12M, $15M and beyond? To reach the highest levels of sustainable growth, you must develop a plan to create and develop a management team that can make your company's vision a reality.
Many owners have not yet developed the skills to take a step back from being a "doer" to managing a high-level management team. In this session, you will develop the skills and learn what you need to build your ultimate management team.
Key topic in this session include:
Planning an organization chart.
Learning how your role as an owner evolves.
Developing a skeleton key for growth with processes.
Best practices for managing your team and delegating.
Retaining Great Employees
November 17, 2022
Your team completes all the tasks that are required to make your company work - from sales, to install and service, to accounting and administration. They represent your company to customers, vendors, and other partners.
Given how important your team is to your company's success, having a focus on retaining your top talent is paramount. High performing, engaged, loyal team members are worth their weight in gold. Losing one of them is like losing a limb, and often they take crucial institutional knowledge with them.
This session will help you stay ahead of your competition and make sure you are up to date on today's most effective retention strategies. Discussion will be encouraged so you can learn what is working for other contractors.
Key topics in this session include:
Becoming the "employer of choice" in your market.
Understanding the costs of turnover.
Developing an effective onboarding process that drives connection and positions you to retain new hires.
Building career paths for employees.
Creating a culture that employees want to be a part of.
Coaching Your Sales Team
December 8, 2022
Sales drive everything in business. To reach the highest levels of growth, contracting companies must develop an owner-independent sales force. The owner, or sales manager, becomes a coach for the sales team, helping to set goals, drive performance, and celebrate wins.
This session establishes the owner's role in the sales process and sets out the key steps for monitoring performance of your sales team. Don't hold back your company's growth by failing to invest in yourself and your company's sales growth. Learn the skills you need to become the ultimate sales coach for your company.
Key topics in this session include:
Learning BDR's recommended "structural sales" process.
Leading sales meetings that energize your team and inspire results.
Setting and monitoring sales goals.
Identifying the correct metrics to track sales progress and success.
Setting and managing pricing.
How does BDR's online training work? 
A link to the virtual classroom and access to class materials will be provided prior to the start of class.
Students will be required to attend all scheduled, live sessions via Go-To Training (internet connection required). Sessions are not recorded.
Questions can be asked, and feedback can be provided by the Trainer in real time.
Students are required to have Adobe Acrobat, free version okay.
Before the training begins, you will be contacted by our Event Team.
Please note that photographs and footage will be taken throughout this virtual event. These will be used by Business Development Resources for marketing and publicity in our publications, on our website and in social media or in any third party publication. By turning on your camera or microphone, you are giving BDR permission to use your likeness in these photos and videos.
If you have any questions about registering for this class, please contact Angie Swartz at angieswartz@bdrco.com or call (206) 870-1880