About this Event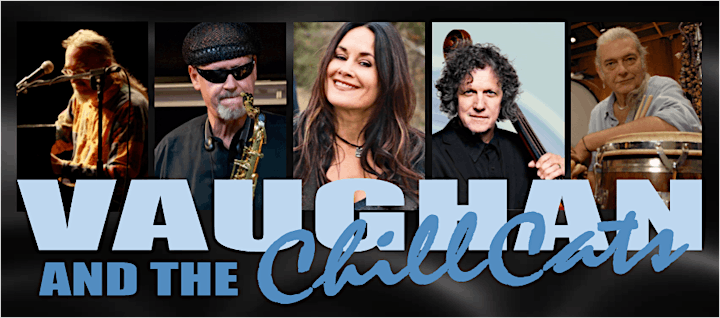 VAUGHAN PENN – VOCALS
Vaughan's smoky-alto vocals and songwriter chops are influenced by Etta James, Tina Turner and Stevie Nicks. Two of her original jazz songs – Miss You Most and Don't Make Me Wait have been featured on NBC's Go-On and E-Channel's The Arrangement.
A North Carolina singer/songwriter, producer, recording artist, Vaughan's original music has been featured in over 155 television shows and movies including Grey's Anatomy, L-Word, Californication, MTV's The Hills, Laguna Beach and the Oscar Winning film The Big Short to name a few.
She's opened and headlined for many national artists including Darius Rucker, Emylou Harris, Indigo Girls, Melissa Etheridge, Amy Mann and others. She's toured and performed all over the US and abroad and performed live on Good Morning America with Chynna Phillips. She's been a signed artist with Sony Provident and Modern Records. Her original music appears on many soundtracks including A&E's Roller- Girls with Annie DeFranco. Vaughan has recorded 10 albums.
Vaughan's captivating stage presence combined with The ChillCat's wig-singeing interpretations of jazz, rock & blues makes for an incredible live show!
DAVE FOX – KEYS
The music of Greensboro, N.C. composer and pianist Dave Fox is forward-looking but firmly grounded in the roots of American jazz and rock with hints of European classical styles. His output includes solo piano compositions, instrumental jazz, blues, and eclectic pop and rock. A native of North Carolina, Fox has collaborated with a wide range of well-known musicians, including Frank Gratkowski, Melissa Reaves, Eugene Chadbourne, Scott Sawyer, Bruce Eisenbeil, Mike Wezolowski, Wally West, Ron Brendle, Greg Hyslop, and Kenny Soule. Since beginning his recording career in 1999, he has released five jazz recordings and two rock/blues albums to critical acclaim.
"Fox's approach on keyboards places the music squarely in the creative improvised sector and is anything but a compromise to popularity. He produces a plethora of diverse keyboard sounds; his attack is fully liberated, and his solos are well-designed, spontaneous outpourings."
Frank Rubolina, Cadence Magazine
NEILL CLEGG JR – SAX, FLUTE, CLARINET
A native of North Carolina, Neill Clegg has performed throughout much of the U.S and Europe. After performing in Germany, France, Holland, and Luxemburg with bands in the U.S. Army, he studied at the University of North Carolina at Greensboro, The University of North Texas, and the City University of New York, completing B.M. and M.M. Degrees in performance at UNCG. He's played in bands backing up singers from Vickie Carr, Bob Hope, and Nancy Wilson to Brenda Lee, Jim Nabors, and The Four Seasons, as well as Holiday On Ice, Disney On Ice, and the Ringling Bros. and Barnum & Bailey Circus. While living in New York, he performed at many of New York's best-known venues, including The Village Gate, Mekeels, Storeyville, The Jazz Forum, Tavern On The Green, and Halloran House. As a clarinetist, he performed with Bel Canto Opera, and as a flutist with Brooklyn Opera. Reviewing his debut recital at New York's Carnegie Recital Hall, the New York Times wrote that he "... possesses an impressive bag of dynamic and coloristic tricks and a next-to-the-skin intimacy."
MATT KENDRICK – BASS
Matt is an award winning bassist, composer and recording artist from Winston-Salem. He studied European classical bass at the North Carolina School of the Arts and Jazz Improvisation with Jerry Coker at UT Knoxville. He teaches Jazz Improvisation and bass as an adjunct professor at Wake Forest University. Matt Kendrick has appeared on Bass with: The Marian McPartland Trio, Ernie Watts, Gene Bertoncini, Archie Shepp, Jaki Byard, Amiri Baraka(aka Leroi Jones), Craig Harris, Dick Hyman and JoAnne Brackeen. He also won the North Carolina Jazz Composers Fellowship Twice. He has four CD's on his own Suitcase Music label and one on the Ichiban label which charted in the Gavin top 50 for national airplay. He has played in the Bass Sections of The Knoxville Symphony, Greensboro Symphony, Winston-Salem Symphony, Western Piedmont Symphony, Salisbury Symphony, The Tri-Cities Symphony and others.
JIM BROCK – DRUMS/PERCUSSION
Jim Brock has proven to be an innovator in the world of drums and percussion. Within his fifty seven year career he has appeared on literally hundreds of recordings with artists such as Joe Walsh, Joan Baez, Kathy Mattea, Joe Cocker, Janis Ian, River Phoenix, and James McMurtry. With five solo recordings and a DVD entitled The Nature Of Drumming,
Jim Has traveled the world extensively with performances on The Tonight Show, A Prairie Home Companion, and multiple appearances on The View, Good Morning America, just to name a few. Among these include a concert at the White House for President Clinton in 2000. Most recently, Jim was asked to compose the music for the documentary "The Spirit of Sacajawea". For this work he is the recipient of the prestigious Telly award, and has currently been nominated for an Emmy award in the category
of Composer.
MIDDLE C JAZZ | Ticket Terms and Conditions
1. Final sale. No refunds, no exchanges, not transferable.
2. We are located at 300 South Brevard Street, at the corner of South Brevard and East M.L.K. Jr. Boulevard.
3. Enter on South Brevard Street.
4. Paid parking is available in the 300 South Brevard deck, accessible via East M.L.K. Jr. Boulevard. Space is not guaranteed.
5. If traveling via public transportation, the nearest LYNX stop is the 3rd/Convention Center Station.
6. Seating is first-come at the door. Only Baby Grand Members qualify for early seating.
7. Doors open 30 minutes prior to the performance for General Admission ticket-holders. Doors open one hour prior to the performance for Baby Grand Members for the first show of the night. If time permits, members will be allowed early access to the second show but only the first show of the night will have guaranteed 30-minute early entry for Baby Grand Members.
8. Photography or recording of any kind is strictly prohibited. Smartphones are permitted.
• Tickets can be redeemed using a smartphone, no printing is required.
• All shows all ages unless otherwise posted, but please consider this is an adult setting.
• A full bar and light food menu are available throughout the show.
• At Middle C Jazz, we believe in taking care of each other and of ourselves. Please approach your concert experience with consideration for the enjoyment and safety of others, and please travel to and from your show responsibly.
Performers
Date and Time
Location
Refund Policy