About this Event
WHO ARE WE?
Made possible by the very generous owners of Moss End Farm, Lost in the Moss is a not-for-profit grassroots event taking place this May in the glorious Peak District National Park.
We're inviting you to join us in the beautiful part of the world to experience amazing music from all over the Peak District, fabulous local food and hang out with fellow makers, creators, movers and shakers from the Staffordshire Moorlands. Cut off from WiFi, but certainly not from Hi-Fi, we aspire to take a festival back to it's roots: great music and art; fabulous local food and drinks; and the best company you can hope to find. We do this while recycling, reusing and re-imagining every feature of the festival site wherever we can, to prove that you can make something amazing out of nothing and respect our beautiful environment every step of the way.
100% of our profits from our festival tickets and bar sales will be going to three causes very close to our hearts:
The Natural Resource Defence Council
The NRDC works to safeguard the earth - its people, its plants and animals and the natural systems on which we rely for healthy communities. It does this by combining the expertise of some 700 scientists, lawyers, and advocates with the power of more than three million members and online activists to confront our planet's most pressing problems.
Find out more about the NRDC here: www.nrdc.org
Staffordshire Moorlands Climate Action (MCA)
MCA was founded in June 2019 in response to a successful campaign, organised by residents of the Staffordshire Moorlands, to get Staffordshire Moorlands District Council (SMDC) to join other councils across the country in declaring a climate emergency. Following this breakthrough, the group decided that it was essential to hold SMDC to account for making socially and environmentally responsible decisions, befitting their climate emergency status. Since then, MCA has grown to over 170 registered members, who engage in positive local action to raise awareness over the issue of climate change within the community and local government.
Douglas MacMillan - affectionately known locally as 'Dougie Mac' .
Dougie Mac offers specialised care for patients over the age of 16 who are facing a life-limiting illness when a cure for cancer is no longer possible. Their social work team also give practical and emotional support to patients, their femilies, carers and friends. Around 3, 500 people and their families in North Staffordshire and Stoke on Trent access their care aervices each year - as a locally funded charity, Dougie Mac relies on local support to continue its incredible work.
WHATS ON?
FRIDAY
TURN UP. SETTLE IN. HANG OUT AND JAM.
The site will be open from 5pm on Friday evening, feel free to turn up anytime from then.
Pitch your tent, have a beer, throw something on our BBQ and hang out by the fire under the stars. We'll be opening our main stage for a jam session – open to anyone from the shower singers to the Grammy hopefuls. We will also provide a safe place to store your instruments if needed.
SATURDAY
THE JAM HITS THE FAN.
MUSIC
MAINSTAGE – FOLK, INDIE, JAZZ, ELECTRO, ROCK AND SOUL. Open from 2pm.
Gille Nicholls
Rick Ford
Thom Ashworth
Divenire
Rodina
Galaxians
10 o'clock Chemical
The Chester Le Flange Experience
Necktr
Ask My Bull
THE GREEN KNIGHT STAGE – ACOUSTIC, FOLK, TALKS AND LATE NIGHT DJs. Open from 2pm. MORE ACTS TBA.
MUSIC
John Dhali
Cousins Brothers
Levi Knapper
TALKS
Jon Cousins
Expect an inspiring talk from the former Mayor of Glastonbury on the beautiful art of Community Organising to build power and resiliance in local communities to tackle injustice. Jon will also talk about the renewable energy alliance he helped to establish within communities around Glastonbury.
LIVE DJ's
From 8pm 'till 2am, The Soundiggers as part of the Woodfunk Collective will be taking over our Green Knight Stage, providing funky music to get your groove on into the early hours.
WORKSHOP TENT – LESSONS FROM STAFFORDSHIRE MOORLANDS' BEST MAKERS, CREATORS, MOVERS AND SHAKERS.
Yoga – limited spaces, sign up here.
Kirsty is a local yoga, meditation and mindfullness teacher who will be joining us to provide two morning yoga classes at Lost in the Moss! Saturday will be a traditional hatha class lasting an hour and a half, with Sunday being a "slow down Sunday" hour-long class. Spaces are extremely limited, details of how to book on are listed below and we recommend booking ahead!
To book, email: Kirsty on yoga@kirstynicol.com
Saturday morning - £12 // Sunday morning - £6.
Extinction Rebellion "Civil Discobediance" Dance Class
Our good friend and professional mover Teresa Pattison will be delivering a fabulous course in how to perfrom the famous XR dance. Teresa worked in London as a dancer and choreographer mostly within the music industry, performing with solo artists, bands and choreographing pop videos, fashion shows and promotional tours. She worked as a dance teacher at the Dance Theatre of London Performing Arts College at Dance Attic, Pineapple Dance Studios teaching for Arlene Phillips and became Head of Dance at Burntwood School in Wandsworth - a specialist Arts College. After returning to Stoke-on-Trent, Teresa became Head of Dance at St Margaret Ward Catholic School and Arts College and ran a Green Arts Festival each year.
Here's an example of the dance in action in Cornwall: https://www.youtube.com/watch?v=25KdGoca5FE
Medipainting – limited spaces, sign up here.
Charlotte will be joining us to bring an hour long painting workshop desgined to increase mindfullness and creativity. All materials will be provided and you'll get to take your masterpeice home with you. Spaces are limited so please go to www.medipainting.com and book ahead to avoid disappointment!
Borderland Voices Poetry and Writers Workshop
Borderland Voices was founded in 1998 in Leek, Staffordshire and currently works across the Staffordshire Moorlands. Our aim is to promote mental health through the arts and to raise public awareness and understanding of mental health issues by delivering accessible arts projects and offering creative space for self-expression within a mutually supportive community.
Hike to Lud's Church // "The Green Chapel"
Yoga and dancing not your thing? Perhaps a guided early morning hike to Luds Church would be more up your street!
From 10am, John, the owner of Moss End Farm will be hosting a guided walk to see the site of the famous meeting of Sir Gawain and The Green Kight, a local legend and the inspiration for our second stage at Lost in the Moss.
FOOD AND DRINK
As ever, the bar will be flowing all weekend long, together with some great food stalls - including the return of our favourite Vegan brownies in the world! Spending money (cash) is a must: due to our location card machines do not work on the farm - and we're 20 mins away from an ATM!
The Flying Burrito Brothers
Anyone who came to the farm in 2017 will remember the Flying Burrito Brothers serving up delicious food from dawn till dusk. Except awesome, flavourful, mexican street food. Check them out on insta @flying_burrito_brothers.
The Moss Bar
Lost in the Moss will be running its own bar this year, serving mixed drinks, local beer, cocktails, tea and coffee. All proceeds from which will go to our chosen charities.
The bar will be open from 6pm Friday and from 9am Saturday for teas and coffees and from 12pm for alcohol until 11pm in the evening.
TICKETS
Your ticket includes access to the entirety of the festival including two nights camping and one of the most coveted forms of festie memorabilia there is going… a Lost in the Moss wrist band. So in later life you can show your grandchildren and tell them what fun we had all those years ago.
We cannot guarantee any ticket availability on the door.
Please note under 10's go free. All under 18's MUST be accompanied by a responsible adult at all times.
If you require car parking please purchase a separate car parking ticket.
We are really excited about opening up Moss End, somewhere very dear to our hearts, for this special weekend. We really hope you can come and join us for a party in the Peaks, and look forward to seeing you all in May!
The Moss Squad ♥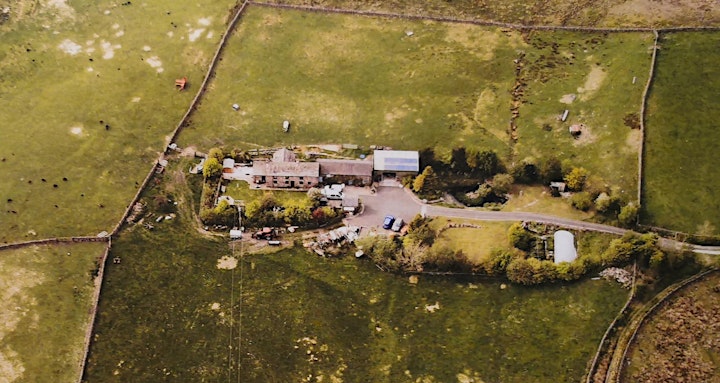 HEALTH AND SAFETY
We're over the moon to be able to open up Moss End, a place very dear to all of us, for a weekend of frivolity. With that said, please keep the following guidance in mind:
- No fireworks or other explosives are permitted on site
- We do not allow the burning of any toxic materials on our property
- Non-breakable containers only for food and drinks
- No dogs (we love your poochy pals, but it's lambing season on the farm!)
- All under 18s must be accompanied by a responsible adult at all times
- If you go exploring in the countryside, you do so at your own risk.
- Please note: we do not endorse the use of any illegal substances on our property. Anyone found in possession of such substances will be asked to leave and relevant authorities will be informed.
- Our bar will be run under Challenge 25 rules. If you're lucky enough to look this young please bring ID!
Please remember Lost in the Moss is an inclusive festival and our success relies on a sense of camaraderie, respect and goodwill. As such we have a zero tolerance policy towards any homophobic, sexist or racist language or actions. We also do not accept any aggressive behaviour towards our amazing volunteers and staff – you will be asked to leave. We as a group of voluntary organisers and your friends implore you to keep this in mind.