Description
Saturday December 7 @ 7PM
---
The Henry Miller Library Presents
JOANNA WALLFISCH

POSTPONED DUE TO THE WEATHER!
Please check back for update on when Joanna will come back.
>>>>>>>>>>
Booksigning and Concert

WELCOME!


Internationally acclaimed musician Joanna Wallfisch has been likened to Joni Mitchell (Jazzwise), while Downbeat Magazine described her as "an exquisite singer-songwriter". As a vocalist, multi-instrumentalist and composer, Joanna's music conveys a beauty of a many-coloured sort that speaks to straight to the human condition. World Music Report described it as "quintessential heart-music by a vocalist who seems to have connected with the deepest recesses of her being emerging into brightness again with songs of haunting beauty." 2019 marks the release of Joanna's fifth album, Far Away From Any Place Called Home, and the publication of her debut memoir, The Great Song Cycle - Portland to LA on Two Wheels and a Song (UWA Press).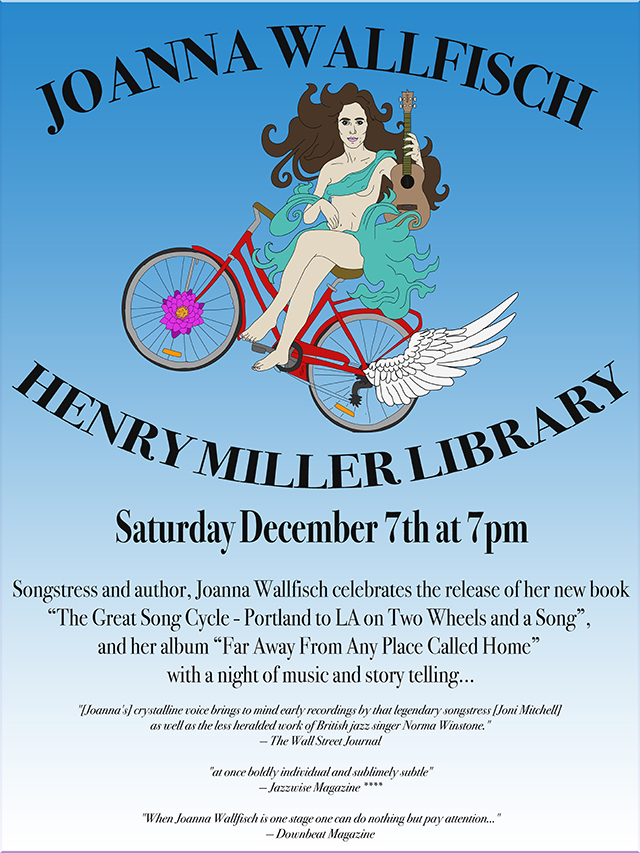 LINKS TO JOANNA's MUSIC!