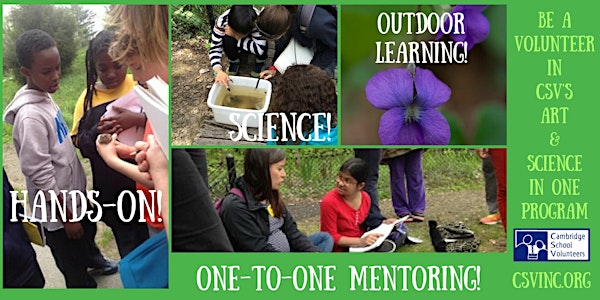 Multiple Dates
POSTPONED INDEFINITELY: Orientation: Art & Science in One
Description
Postponed Indefinitely.
Note: there may be additional orientation dates not listed here on Eventbrite. If you need further information about additional dates, please email csv@cpsd.us.
Thank you for your interest in helping engage kids with science learning and acquire basic science observation and recording skills through CSV's Art & Science in One program. Many of our volunteers return every spring because they find working outdoors closely with one child, sparking the student's interest in nature and the environment, to be so rewarding. You'll find your volunteering is rewarded not just by your effect on student learning but also by the shared purpose amongst volunteers, staff, and educators involved in this program.
Cohort A: Meets on 6 Fridays and 1 Saturday
March 6, 11:00 a.m.–1:30 p.m. (2.5 hours);
March 13, 20, 27, and April 3 and 17, 11:30 a.m.–1:30 p.m. (2 hours);
Saturday, April 18, 2:00–3:30 p.m. (1.5 hours, volunteer retreat).
Cohort B: Meets on 7 Wednesdays
April 15, 11:00 a.m.–1:30 p.m.(2.5 hours)
April 29 and May 6, 20, and 27 and June 10 & 17, 11:30 a.m.–1:30 p.m (2 hours)
Cohort C: Meets on 7 Fridays

May 1, 11:00 a.m.–1:30 p.m. (2.5 hours)
May 8, 15, 22, 29 and June 5 & 12 , 11:30 a.m.–1:30 p.m. (2 hours)
FAQs

What is Art & Science in One?
Art & Science in One (AS1) provides one-to-one volunteer mentors in outdoor nature journaling to three entire classroom of elementary school students. Each classroom we work with has a mix of Grade 4 and Grade 5 students in Cambridge's public accredited Montessori school.
Do I have to be an artist or scientist to join as a volunteer in this program?
No, you do not. However, you do need to have an enthusiasm for the outdoors and for learning new things. The main requirement is being able to model genuine interest and curiosity in a natural setting. Artists and scientists are, however, always very welcome as members of this volunteer mentor community!
You should also have an interest/comfort level in working with children of this age (9–11).
What is the time commitment?
Volunteers must be able to commit to attending each of seven sessions (more details available at orientation). A limited number of spots for alternate [substitute] volunteers are available for people who want to participate but who cannot attend on all of the dates for a single cohort.
Can I volunteer in more than one cohort?
Yes. Each cohort serves a different classroom. There is no overlap between the cohort schedules. We welcome applicants who wish to become a mentor in more than one cohort.
How do I sign up for orientation?
Click "Select a Date" above, and then "Register." You can also call us to register: 617-349-6794.
Where is orientation?
Orientation is in the Teacher Resource Center on the third floor of Cambridge RIndge and Latin School, except on Feb. 28, when it is in Room 1105 at the school (CSV administrative office).
What happens at this orientation?
At orientation, you will learn about the goals of the Art & Science in One program, how and when volunteers are trained, and about the school and students. You will have the opportunity to ask questions. You'll fill out the required forms for joining any CSV program as a volunteer. (please bring a photo ID, and, if possible, your completed referral forms to orientation). We'll get to know you, as well—your schedule, interests, and background—so that we can do the best job of matching you to a student or role.

Is orientation required to join AS1 as a volunteer mentor?
Yes. Orientation is part of the application and screening process and enables us to be sure the program is win-win for you and for a student.
My schedule doesn't fit any of the AS1 cohort schedules. Should I still attend this orientation? We also accept a certain number of alternates who receive the same training as our regular mentors. Alternates are called to fill in for a regular mentor in case of emergency.
At orientation, you'll also receive information about other CSV volunteer opportunities that might interest you and fit your schedule, either in this spring and in the following school year.
When is orientation?
Your orientation will be on one of these dates listed here on Eventbrite. You should choose only one date to attend.
When will I be trained?
Training is embedded in the first few sessions on the list of dates (details will be provided at orientation).
What about school vacation weeks?
There will be no sessions during Cambridge Public Schools vacation weeks or school holidays.
Who are the students? Will I have one student?
The students in the program are all the students in combined 4th- and 5th-grade classrooms, who are a representative cross-section of Cambridge Public Schools enrollment. Each volunteer in the program is paired with a single student for the duration of the program.
Can I help if I've never worked in a school?
Yes! You do not have to have prior experience as a tutor or teacher.
Do I need to provide references or have a CORI check?
Yes. Please have two people who know you fill out our reference form and bring it to orientation. Your two references should be individuals who have known you for at least one year. Also, bring a government-issued photo ID (driver's license or passport) for a CORI (criminal record) check.
Organizer of POSTPONED INDEFINITELY: Orientation: Art & Science in One
Founded in 1966, Cambridge School Volunteers is an independent non-profit organization supporting the academic and personal success of Cambridge public school children. CSV develops programs which match caring and competent adults with students of all needs and levels. To read more CSV success stories, please visit our website: www.csvinc.org