Location
Walking Stick Brewing Co.
956 Judiway Street
Houston, TX 77018
POSTPONED - This event has been postponed.
About this event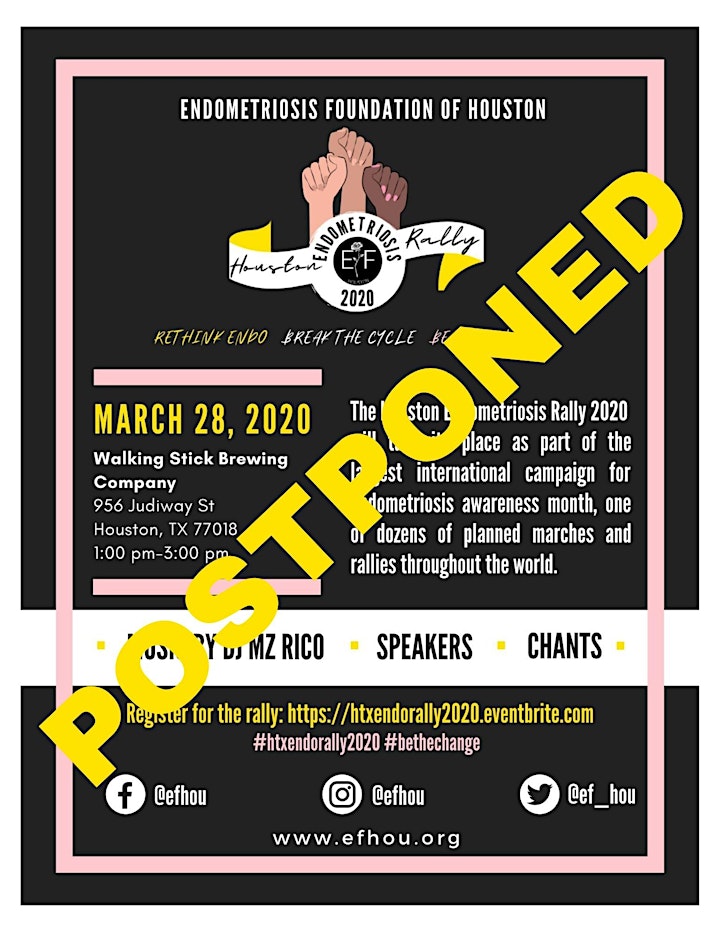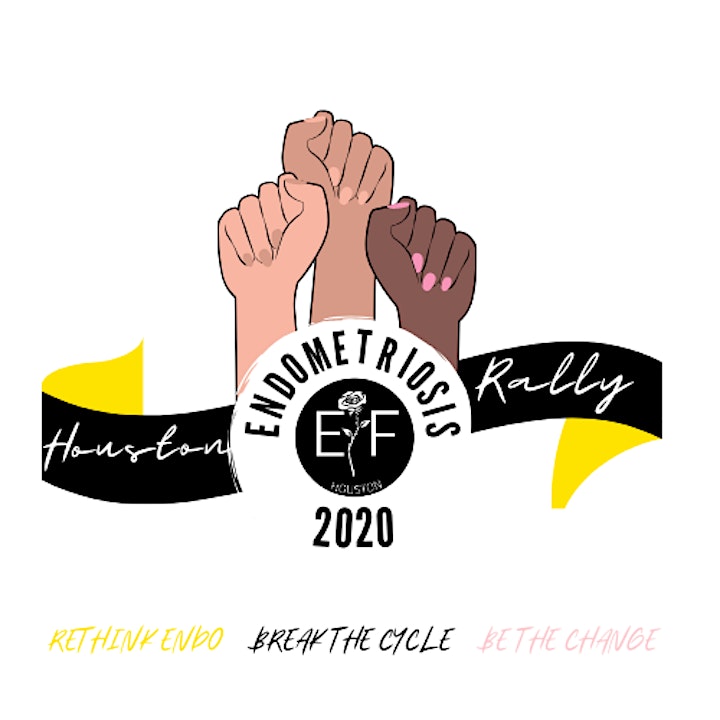 The Houston Endometriosis Rally 2020 will take its place as part of the largest international campaign for endometriosis awareness month, one of dozens of planned marches and rallies throughout the world. The first of its kind in Houston, this event will bring together patients, advocates and top practitioners from across Texas to raise the profile of this devastating disease. We will discuss the challenges the endometriosis community faces in accessing care and our hopes for the future.  
Dress in yellow and join the thousands of endometriosis activists from around the world who will be marching/rallying in unison on Endo Day, Saturday, March 28, 2020, so that, together, we can keep fighting to teach, fund, and cure endo! Come enjoy outstanding speakers, music by Houston's very own DJ MZ Rico, chants and be a part of this event which has ignited a global endometriosis & menstrual health uprising that's helping to improve the lives of the 1 in 10 women, girls, and transgender individuals whose urgent health needs have been ignored for decades.
This rally is free, family-friendly, and open to all. Additional event details are still TBA. 
Purchase a rally t-shirt (last day to order is 2/28/2020): https://www.customink.com/fundraising/htxendorally2020
This rally is hosted by the Endometriosis Foundation of Houston.
To learn more the rally, featured speakers, schedule of events, sponsorship opportunities, hotel accommodations, please visit www.efhou.org.
Follow us:
3/13/2020 - A MESSAGE ABOUT COVID-19: In light of recent news events regarding the coronavirus (COVID-19) by the World Health Organization, the city of Houston, Harris County and the federal government, which has imposed certain travel restrictions, the Endometriosis Foundation of Houston has decided to postpone the inaugural Endometriosis Awareness Rally scheduled for March 28 at Walking Stick Brewery Company.
On March 11, the WHO declared coronavirus (COVID-19) a global pandemic. While the number of confirmed cases of COVID-19 in the community is still relatively low, city and county officials have said that community spread is likely within the coming days if not already occurring. The amount of cases will rise when more testing is done. The city of Houston has also ceased all city-wide events, including the Houston Livestock Show and Rodeo and the Houston Tour De Cure. Festivals, parades and other events where crowds are expected to gather are being canceled all across the country, the state and locally.
In an effort to help "flatten the curve" and protect our community, EFHou has decided out of an abundance of caution to postpone the rally and to reassess when would be a better time to host a rally of this size.
We are hopeful that we can reschedule but please rest assured that we have thoroughly weighed our options and received advice from our mentors when making this decision. We would never cancel an event if we did not believe it was necessary.
Information will be posted on our website once a new date has been confirmed.
EFHou is available if you have any questions. Please visit EFHou.org for more information and to read updates regarding this and other related matters.
3/9/2020 - A MESSAGE ABOUT COVID-19: We are closely monitoring the ongoing worldwide COVID-19 situation. Please read our full statement here: https://www.efhou.org/coronoavirus-covid19-rally⁠
Please subscribe to our newsletter to get the latest updates about the rally. ⁠
⁠#htxendorally2020 #efhou #covid19 #houstonevents