POSTPONED - Gamestorming: How to Run Meetings like a Jedi

Friday, March 2, 2012 from 10:00 AM to 4:00 PM (EST)
Event Details
WORKSHOP POSTPONED
James and his wife had a baby ... early! We're hosting a webinar 3/2/12 at 9:30AM and full workshop, date TBD email evona@workbarboston.com for webinar details.

WorkBar Workshops
MARCH 2nd, 2012 | 10AM - 4PM
With Co-Author James Macanufo @macgeo

Gamestorming Your Workplace (A.K.A. How to Run a Meeting with Words AND Pictures)
Since the vast majority of us have to either plan or attend meetings, why not become a Jedi at designing and running them? The simple but revolutionary techniques of visual thinking and gamestorming assure that your meeting not only doesn't stink, but that you make the best use of everyone's time and dramatically shorten the length of time in which you do it. The value of visual thinking and participatory design with a group is enormous and the benefits include:
Using a simple, shared visual language to increase understanding and information retention.

Applying improvisational discovery to keep participants engaged.

Mapping the big picture, solving problems and innovating as a team. Creating visual meeting artifacts to drive decisions forward.
You don't need to be a rocket scientist or an artist of any caliber to learn how to design and lead better meetings. In this day-long workshop, you'll learn the fundamentals of visual language, how to illuminate complexities by mapping the big picture and how to use improvisation and games to innovate and solve real problems. At the end of the workshop you'll feel more confident about using visualization in meetings and you'll recognize the power of doing so. So let the games begin!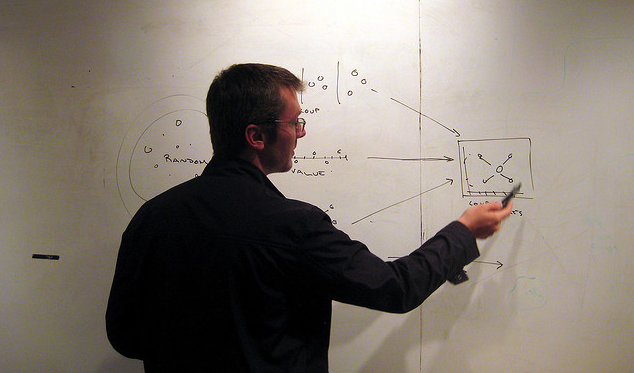 Picture taken by Dave Gray http://www.davegrayinfo.com/

About the Book:
Everyone talks about innovation but nobody really knows how to innovate. By employing simple frameworks such as players, boundaries, and goals, Gamestorming turns simple office supplies like sticky notes and index cards into a powerful platform for changing the game of business. Gamestorming is a proven approach to real-life, roll-up-your-sleeves-and-get-your-hands-dirty innovation. The authors of Gamestorming have spent over twenty years identifying, cataloguing and practicing the techniques that leading teams – from startups to global giants – use to collaborate, communicate and make the right things happen at work. Whether you're a startup with a hunger to change the world or an intrapreneur at a big company who wants to change the game from within, this book offers a clearly-defined approach to breaking down barriers, communicating effectively and generating breakthrough strategies. Richly illustrated with 100 images and more than 80 business games, Gamestorming is for people who want to learn how serious "play" can be.
About the Speaker James Macanufo:
James leads the Visual Thinking practice at XPLANE | Dachis Group. He believes that visualization is essential to understanding what things are, how they work, and why they matter. 
He works side-by-side with high tech, government and military clients to shape strategy, transformation and communication programs. Combining 10 years of information design experience with a deep expertise in facilitation, he leads groups in navigating and explaining complex systems in 'real-time.'
With co-authors Dave Gray and Sunni Brown, James has written Gamestorming as a guide to getting started in combining the power of visualization with the structure of the group process. 
Prior to XPLANE, James was a journalist, reporting on and creating information graphics at Newsweek Magazine and American City Business Journals. He holds a Bachelor's of Journalism from the University of Missouri-Columbia.
Have questions about POSTPONED - Gamestorming: How to Run Meetings like a Jedi?
Contact Workbar
When & Where
711 Atlantic Ave
(Lower Level)
Boston, 02111


Friday, March 2, 2012 from 10:00 AM to 4:00 PM (EST)
Add to my calendar
Organizer
Workbar is a regional network of coworking spaces. Not only do our Members have access to high-quality, innovative workspaces, but also a diverse community of professionals that enrich both their professional and personal lives.
Your best work requires a balance of concentration and the freedom to explore ideas with others - Workbar is that environment.
We've changed the traditional office concept into a network of membership-based workplaces for people serious about their professions and hungry for the energetic hum of collaborative productivity.