Everything you need to know about a Food Truck Business - whether you are just dreaming about opening a truck or are already up & running!
About this event
Due to surges in COVID we are postponing this February 2022 event until everyone feels safe to learn in person!
Details and Dates to come - keep an eye out for our online series about food truck businesses!
*************************************************
Ever dream of owning a Food Truck?
Already own a new or established Food Truck?
Want to expand your restaurant and add a Food Truck?
Then join us for a dynamic, personal conference all about the Business of Food Trucks from the experts at the Street Food Institute!
With your registration you and an additional guest (employee, business partner, or confidant) are invited to learn from over 20 conference sessions! Plus, sign up to meet with multiple different coaches for one-on-one business consultations that fit your needs.
Pick and choose what content works for you - we can guarantee there is something for every entrepreneur!
Session Content Includes:
- Marketing & Public Relations
- Recipe & Menu Development
- Regulations & Compliance
- Food Safety
- Business Development & Expansion
- Financial Management
- Food Truck Design for Efficiency
Private Coaches & One-on-One Business Consultations Offered:
- Food Truck Inspection on your Truck
- Recipe Development in Kitchen
- Menu Design with Chef
- Financial / Loan Options with Local Organization
- Licensing and Regulations for starting your Business
- Accounting & Bookkeeping Advice
- Logo Design with Graphic Designer
- Business Plan & Enterprise Budget Review
Schedule Highlights:
Monday Afternoon - Food Truck Show and Tell with other participants
Tuesday, Wednesday, Thursday - Sessions and one-on-one Coaching
Tuesday Evening - Matchmaking with Local Businesses Wanting a Food Truck Present at their Establishment
Thursday Morning - Meet with farmers and makers of local food specialty items so you can source local, high quality for your Menu
Friday - Policy and Advocating for your Business with Local Government
Speakers Include:
Experts in Food Trucks: The Street Food Institute from New Mexico!
Learn more about the Street Food Institute here: https://streetfoodinstitute.org/
- EmPOWERing Mountain Food Systems
- Cooperative Extension
- Sequoyah Fund
- MountainBiz Works
- Appalachian Sustainable Agriculture Program
- Small Business Centers
Additional Comments:
- When registering, sign up for the individual coaching sessions you would like attend. These coaching opportunities will be offered to Western NC residents only.
- Consider brining your Food Truck; experts will offer mock inspections and efficiency advice, and we will be hosting a Match Making Event for you to market your truck to local folks who want a truck at their business location. (Let us know when you register if you will be brining your truck)
- Lunch will be provided for you and your guest during the conference
- We have reserved block rooms at the hotel; contact Jessica Mrugala for more information
- Although not required, vaccination for COVID-19 is strongly encouraged (and subject to change to a requirement in the future)
* Scholarships available for those residing in Haywood, Jackson, Swain, Macon, Cherokee, Graham, and Clay Counties + Enrolled EBCI Members *
Scholarship Form Here; Request before Registering to receive Promo Code: https://docs.google.com/forms/d/e/1FAIpQLScMU74pWtyFzOcVUdS-Q8M0dDgHO48XLbCn5UhRjtBnldFWHg/viewform?usp=sf_link
Contact Jessica for more information about scholarships, jmrugal@ncsu.edu
* Register Today! Space is Limited and tickets are only on sale until 1/25*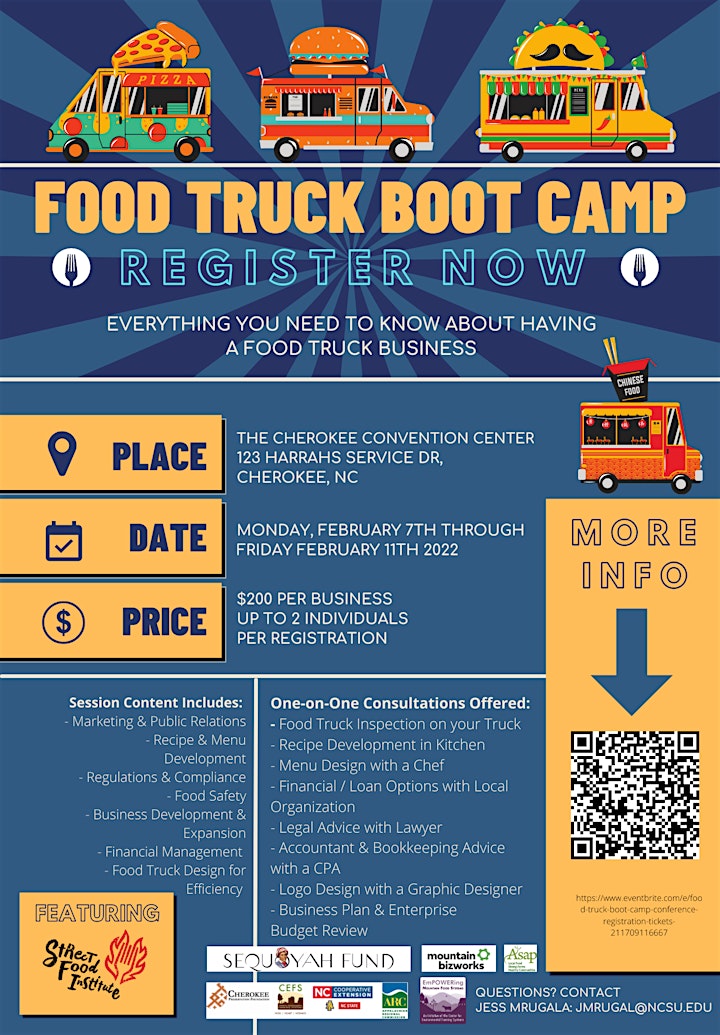 Organizer of POSTPONED! Food Truck Boot Camp - Conference Registration
---
NC State University and N.C. A&T State University work in tandem, along with federal, state and local governments, to form a strategic partnership called N.C. Cooperative Extension, which staffs local offices in all 100 counties and with the Eastern Band of Cherokee Indians.
Read our Privacy Statement
N.C. Cooperative Extension prohibits discrimination and harassment on the basis of race, color, national origin, age, sex (including pregnancy), disability, religion, sexual orientation, gender identity, and veteran status.
Individuals with disabilities are invited to request reasonable accommodations to participate in Extension sponsored programs and events. Please contact the county Extension office offering the program at least 14 days prior to the event to make arrangements.