Description
This event will be postponed until November. The rescheduled event will be a celebration of Tomeekha's major accomplishment, and a sweet finale to the promotional tour for "Earth's Quiet Chaos". It will be a gratitude event for all who have supported her book journey.
We will keep you posted on details as we grow closer to November.
Peace and Light!
---
Black Cotton Publishing presents one of the most anticipated events in Los Angeles! On Saturday, June 4th, newcomer author Tomeekha Pitre will debut and sign copies of her first fiction novel, "Earth's Quiet Chaos". There will be live reading from the book, entertainment, hors d'oeuvres, and beverages for her guests. Paid admission will include a copy of the new book!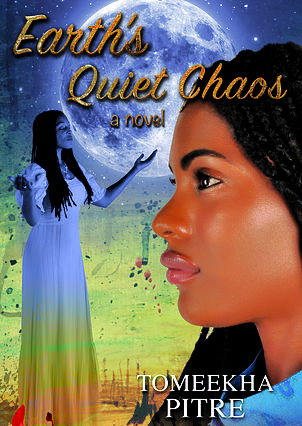 Earth's Quiet Chaos is set in a historically significant community in Los Angeles, California. Earth Hartley is an African American businesswoman whose life is consumed by caring for her older sister, Moon, and trying to save Moon from the consequences of her careless behavior and substance abuse.
Moon is paranoid, violent, erratic, and irrational. She thrives in her life of chaos, and has no regard for the pain it causes her family.
Ra, their brother, is the lifeline between his two sisters. He's the glue that holds the family together until a horrible and violent act results in Moon's arrest.
The story of Earth's Quiet Chaos is about finding and holding onto true love while dealing with family issues that are considered to be taboo in the African American community, but are relatable to all.
Frequently Asked Questions
Are children allowed to attend the event?
Children are welcome to this event, with parent supervision.
Do I need to print my ticket?
No, you do not need to print a paper ticket. All you will need is the name of the person to whom the ticket is registered and valid photo ID.
What are my parking options at the event?
There will be plenty of free street parking outside the venue.
Where can I contact the organizer with any questions?
Feel free to contact us at blackcottonpublishing@gmail.com with any inquiries.
Are there refunds after purchasing my ticket? Is my registration/ticket transferrable?
If you are unable to attend the event for any reason, you may transfer your ticket to another person, or request your book copy to be mailed to you. We are not offering refunds at this time.