***POSTPONED DUE TO HURRICANE***The American Sustainable Business Council Presents: Conservative Thought & Sustainability at the RNC

Tuesday, August 28, 2012 from 8:30 AM to 12:30 PM (EDT)
Event Details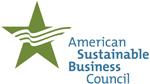 **Due to the impending hurricane, we are regrettably rescheduling our Town Hall in Tampa.** 
We are working to reschedule the event for the third week of September and will post further details shortly.
Thank you for your interest in the Town Hall on Conservative Thought and Sustainability.
The American Sustainable Business Council
                                                          Presents a Town Hall
"Conservative Thought and Sustainability"
at the Republican National Convention
              University of South Florida, Tampa
              WUSF TV Studios, 4202 East Fowler Avenue, TVB100 33620-6870     
 August 28, 2012
         8:30 am to 12:30 pm
Join us for a live, interactive discussion in the University's TV Studios with leading business leaders and elected officials on how to ensure a robust economy and healthy environment. The Town Hall discussion will highlight the economic benefits of sustainable business practices and the role that public policies play in encouraging a clean environment, while ensuring personal freedom, true competition and innovation.
RSVP required as seating is limited.
Panelists include:      
Former Mayor Rick Baker - VP Economic Development & Innovation Partnerships, USF

Yalmaz Siddiqui, Senior Director, Environmental Strategy, Office Depot

Kathrin Winkler, Chief Sustainability Officer, EMC Corporation

Mike Bedessem, CFO, Organic Valley

Howard Williams, Construction Specialties

John Hagen, CEO, Pasco County Economic Development Council

Pete Peterson, CEO, Znergy, Inc.

Trammell S. Crow, Earth Day Dallas

Paul Harvey, Vice President, Tampa General Health

Stuart Gibbons, Past Chairman Urban Land Institute - Tampa Bay Chapter

Robert Amstead, Senior Advisor, Patel School of Global Sustainability, USF

Former Congressman Jim Walsh, K&L Gates 

Andrew Langer, Institute for Liberty

Nina Easton, Washington Bureau Chief, Fortune Magazine
 More Information: 
To attend the Town Hall, please contact:
Richard Eidlin, ASBC Policy Director reidlin@asbcouncil.org, 303-478-0131
Bob Singerman, Executive Producer, Turbo  Communications Inc. turbocommunications@gmail.com,          813-786-5400
###
      The American Sustainable Business Council is a national business policy organization committed to creating a  vision and framework that advances policies to support a prosperous and sustainable economy. The American Sustainable Business Council (ASBC) and its fifty plus partner organizations represent over 150,000 businesses and more than 300,000 individual entrepreneurs, owners, executives, and investors.
Organizer
American Sustainable Business Council
The American Sustainable Business Council is a growing national business network of over 70 business associations across the United States, representing over 200,000 businesses and 325,000 business executives, owners and investors. The Council is dedicated to moving beyond the politics and practices of the past to identify the innovative solutions that will transform our economy and society. ASBC believes that sustainable economic development is compatible with shared prosperity, environmental protection, and social justice. ASBC works on a range of policy issues, including – agriculture, taxes, capital access, campaign finance, corporate governance, regulations – at both the federal and state level.