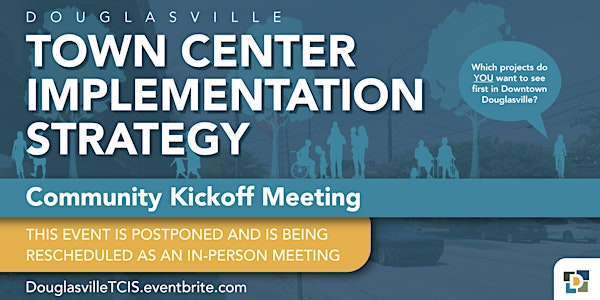 POSTPONED: Douglasville Town Center Implementation Strategy Kickoff Meeting
Join us to kick off the Douglasville Town Implementation Strategy and share your thoughts on key projects to improve our town center area!
About this event
POSTPONED: Due to feedback the City of Douglasville has received from community members, this event has been postponed and will be rescheduled as an in-person event in the near future. Venue logistics are being finalized and will be announced as soon as possible. Thank you for your continued interest in supporting our town center area! We are excited to talk to you in person soon.
About the Project
Douglasville has big plans for its town center, from street redesigns and trails to new park and development concepts. Over the past five years, more than 150 projects have been proposed in the town center area through previous plans! To focus the City's resources and energy, we are kicking off an action-oriented plan to bring together all of the previous plans for Douglasville's town center area, prioritize a short list of projects, and create a strategy to get them done. To do this, we need to know which projects are most important to the community.
About the Event
This first community meeting will provide a brief overview of the project, with most of the time spent in small group discussion sessions to hear from you about the key issues and opportunities you see in the town center, which will help us narrow down the list of projects to those that best address these key issues.
There will be additional community engagement activities for this plan throughout the fall. Registrants of this event will be updated about future events as meeting dates and locations are finalized.
This is a free event hosted by the City of Douglasville. Participants are encouraged to register via Eventbrite to receive reminder emails and help the event organizers prepare.
This project is funded by the Atlanta Regional Commission's Livable Centers Initiative program.
Check Out Previous Plans
Are you interested in reviewing the previous plans that impact this area and will be included in the implementation strategy? Check them out at the links below.
• Douglasville Comprehensive Plan (2018)
• Northside Redevelopment Plan (2018)
• Dallas Highway LCI Implementation Plan (2019)
• Fairburn Road Corridor Plan (2020)
• Pedestrian and Bicycle Connectivity Plan (2020)