POSTPONED: CGU in Conversation with Sandy Lerner, co-founder of Cisco Syste...
Description
Due to ongoing health concerns, this event has been postponed to the fall semester. For more information about the status of CGU events and the precautions we are taking during this time, click here.
Of course, we all know the Sandy Lerner (MA, Econometrics, '77) who co-founded Cisco Systems, a company ahead of the modern internet and producer of the first computer systems routers. We might even recognize her from her start-up women's cosmetics company, Urban Decay, celebrated for branching away from the traditional feminine red-and-pink palette. But now it's time to "talk turkey." Literally.
Sandy Lerner, businesswoman and philanthropist, is the owner of Ayrshire Farm, a 600-acre operation whose mission is to farm sustainably and profitably. Sandy and her organization promote the benefits of locally produced, humanely raised meats and organic produce to the consumer, the community, and to children through education, outreach, and example. Sandy is "up to her pin feathers" in turkeys at her Virginia estate and loves every minute of it!
Be our guest as CGU President Len Jessup engages Sandy in a wide-ranging discussion about her Cisco beginnings, how she made her subsequent business decisions, where her generous philanthropic efforts have led, as well as—of course—her affection for turkeys.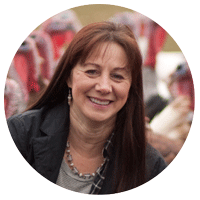 ---
Upcoming CGU in Conversation with Len Jessup:

Tuesday, April 28, 2020
Bob Chapman, chairman and CEO of Barry-Wehmiller, a $3B capital equipment and engineering solutions firm, has led the company's transformation from traditional management practices to what is called Truly Human Leadership—a people-centric approach where team members are valued, cared for, and an integral part of the company's purpose.