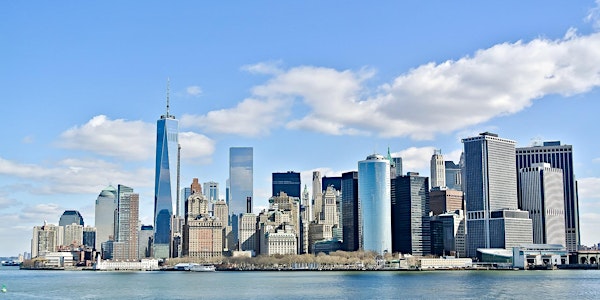 (Postponed) AWARN NYC Roundtable on Advanced Emergency Information (AEI)
Join AWARN, WNET, NYCEM & colleagues to discuss the roll out of interoperable Advanced Emergency Information (AEI) using ATSC 3.0/NextGen TV
When and where
Location
One World Trade Center 285 Fulton Street New York, NY 10007
About this event
The AWARN NYC Roundtable meeting planned for October 17-18, 2022, has been postponed until 2023.
After close consultation with our partners, we have reluctantly decided that it would be more productive to hold tri-state area discussions on Advanced Emergency Information (AEI) sometime next year. Thanks to our co-hosts WNET and NYC Emergency Management, as well as our sponsor The Weather Company, and IBM Business, for all the planning and outreach that went into the event.
We appreciate your interest in attending the NYC Roundtable and apologize for any inconvenience this postponement may cause.
Please reach out to AWARN Deputy Director Anya Shetler at anya@AWARN.org or AWARN Executive Director John Lawson at jlawson@AWARN.org with any questions about this decision, or to learn more about AWARN and the roundtable meeting series.
We hope you have a safe and healthy fall, and we look forward to resuming discussions on AEI deployment in 2023.
Objectives for the roundtable
Review the state of alerting relationships between EM's and TV stations (those with newsrooms and those without) in the NYC area today.
Identify best ways for EM's, broadcasters, and other emergency information distributors to use AEI broadcast directly and in a voluntary, interoperable 'network of networks.'
Identify relationships that need to be built or strengthened between alerting stakeholders.
Help refine the model for AWARN roundtables in other regions and develop a national framework for the roll-out of AEI and NGEM.
Who should attend?
Emergency managers, including those who "push send" for alerts, TV station general managers, news directors, and operations and technology executives from both commercial and public media in the tri-state area.
Local and state emergency managers, including sheriffs, alert originators, and Public Information Officers.
Area members of the State Emergency Communications Committee (SECC).
Federal and non-federal alerting regional officials.
Selected expert technology solution providers and device makers.
Officials involved in emergency communications policy and planning.
AWARN Regional Roundtables: Rebuilding the Broadcaster-Public Safety Partnership
The goal of the AWARN Regional Roundtable Series is to bring together emergency managers and broadcasters to launch Advanced Emergency Information (AEI) with ATSC 3.0 NextGen TV. Through this effort, we want to reboot the historic relationship between broadcasting ("first informers") and the public safety community.
Post-meeting evaluations from participants from across Southern California at our first roundtable in Santa Barbara were extremely positive, with comments like "eye-opening," "excellent," "it really moved me," "connections were made," and "just the beginning."
We expect the Roundtable will lead to AEI becoming part of the agenda for the revitalized State Emergency Communications Committee (SECC) meetings and, eventually, voluntary agreements between emergency managers and TV stations.