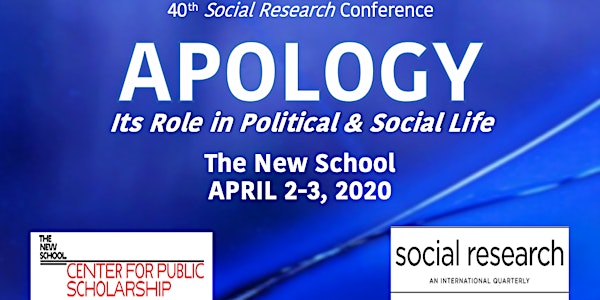 POSTPONED: Apology: Its Role in Political and Social Life
When and where
Location
The New School 66 West 12th Street New York, NY 10011
Description
After thoughtful consideration, and out of general caution for COVID-19, we have made the decision to postpone our Apology conference until the fall. We will be in touch with you as soon as we have settled on the new date, and very much hope you will attend.
In this moment of political turmoil in the United States and abroad, characterized by a great many people with a great deal to apologize for, we announce the 40th Social Research conference on Apology that will take place April 2nd and 3rd, 2020 at The New School.
This theme raises many questions including: What is the value or consequence of an apology from a politician? What is the impact of apologies on historical wrongs? Are reparations or other forms of redress effective in righting or mitigating historical wrongs? Guilt, accountability, and forgiveness all play a role in apology, both in cases where actors recognize their culpability, and in cases where they do not. During "Apology," our speakers will address the topic through a variety of lenses exploring restorative justice, the role of reparations for slavery, apology and the church, and the global politics of restitution, among others.
This conference brings together experts from a range of disciplines, including historians, policy makers, the clergy, the law and the courts to examine the role of apology in social and political life, and how and when apologies make a difference. This 1.5-day conference will be the 40th in the Social Research conference series.
PROGRAM
Day 1: Thursday, April 2, 2020
Session I. Apology in the Public and Political Domains
3:00-5:30 PM
Alvin Johnson/J.M. Kaplan Auditorium
66 West 13th Street, 10011
A106
Moderator: Jeremy Ginges, Associate Professor of Psychology, The New School
The role of apology and forgiveness in working toward social justice and cultural healing
Fr. Michael Lapsley, Director, Institute for Healing of Memories
Exploring the global politics of restitution and negotiating historical injustices from 1945 to the present
Elazar Barkan, Professor of International and Public Affairs, Columbia School of International and Public Affairs
Rejuvenating Reparations
John Torpey, Presidential Professor of Sociology and History/Director of the Ralph Bunche Institute for International Studies, CUNY Graduate Center
Transitional justice in the context of apology
Pablo de Greiff, Transitional Justice Program Director, Center for Human Rights and Global Justice, New York University
Keynote Event: Michael Eric Dyson
Public Apologies, Cultural Conflicts
Race, Sex and Kobe Bryant (And
Snoop Dogg
and Gayle King Too)
6:00-7:30 PM
Alvin Johnson/J.M. Kaplan Auditorium
66 West 13th Street, 10011
A106
Day 2: Friday, April 3, 2020
Session II. Case Studies: United States
10:30-12:30 PM
Arnold Hall
55 West 13th Street, 10011
I202
Moderator: TBA
Proportionality and MeToo
Nancy Gertner, Judge, USDC Massachusetts (retired); Senior Lecturer, Harvard Law School
Apology and the Church
Peter Steinfels, former editor, Commonweal; former religion writer, The New York Times; University Professor Emeritus, Fordham University
The Role of Apology in Reparations for Slavery
Katherine Franke, Sulzbacher Professor of Law, Gender, and Sexuality Studies, Columbia Law School
The Census and Apology
Margo Anderson, Distinguished Professor Emerita, University of Wisconsin, Milwaukee
Session III. Case Studies: International
1:00-3:00 PM
Hirshon Suite
55 West 13th Street, 10011
I203
Moderator: Elzbieta Matynia, Professor of Sociology and Liberal Studies; Director of Transregional Center for Democratic Studies, The New School
The Case of Poland and the Jews
Irena Grudzińska Gross, Research Scholar at Princeton University; Professor at the Institute of Slavic Studies, Polish Academy of Science

Corporate Malfeasance and Meaningless Apologies
Rena Steinzor, Edward M. Robertson Professor of Law, University of Maryland Francis King Carey School of Law
Restorative justice: Truth and Reconciliation Commission
Ahmed Bawa, Chief Executive Officer, Universities South Africa