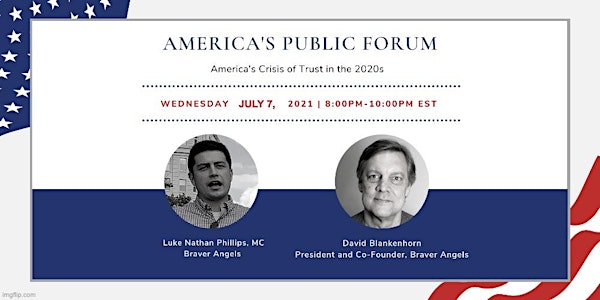 POSTPONED- America's Public Forum: America's Crisis of Trust in the 2020s
From a series of events bridging the worlds of ideas and depolarization, hosted by Braver Angels and friends, "America's Public Forum."
Refund Policy
Contact the organizer to request a refund.
Eventbrite's fee is nonrefundable.
About this event
NOTE- This APF event has had to be postponed, and will no longer occur on July 7th. We will look forward to rescheduling it as soon as possible. Another APF event will happen on July 7th, which we will announce soon; this rescheduled one will happen in the coming weeks.
We apologize for the inconvenience. Please contact Luke at lphillips@braverangels.org with any questions.
Intellectuals from across the political spectrum have observed for decades that, beneath the intense and polarized vitriol of American politics, a general and metastasizing crisis of trust has steadily eaten away at American institutions and whatever shared legitimacy they once held more confidently. In some ways this has led to the alienation of large segments of the American population, from those who live in the great urban centers to those living in the old expanses of the heartland and everywhere in between; in other ways this has led to record levels of distrust in everything from media, education, and our political system itself, most sharply in the disputes over the legitimacy of national elections. At some level, all these boil down to questions about America itself, and citizens' relationships to it, and to all their fellow Americans.
Join Braver Angels's President and Co-founder, David Blankenhorn, and the Publius Fellow for Public Discourse, Luke Nathan Phillips, for an insightful, expansive, and intimate conversation on the crisis of trust in America in the past and coming decade, on its various aspects, and on the ways Braver Angels's work has in the past, and may in the future, worked to build bulwarks for democracy in our troubling and untrusting times.