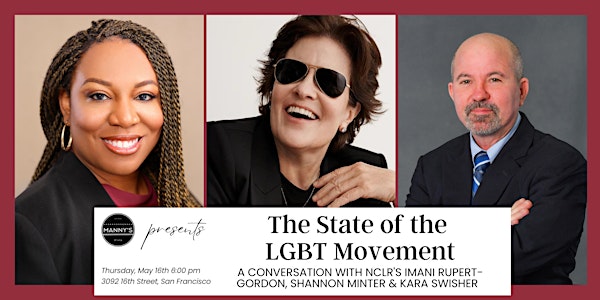 POSTPONED: A Night with NCLR's Imani Rupert-Gordon & Shannon Minter
Manny's welcomes NCLR's Imani Rupert-Gordon & Shannon Minter for a discussion on the state of the LGBTQ movement moderated by Kara Swisher.
Location
Manny's 3092 16th Street San Francisco, CA 94103
Refund Policy
Contact the organizer to request a refund.
About this event
The National Center for Lesbian Rights (NCLR) is a national legal organization committed to advancing the human and civil rights of the lesbian, gay, bisexual, transgender, and queer community through litigation, public policy advocacy, and public education. Since being founded more than 45 years ago, NCLR has maintained a longstanding commitment to racial and economic justice and the LGBTQ community's most vulnerable.
In 2023, we have seen nearly 500 anti-LGBTQ laws – most targeting transgender kids – introduced in state legislatures around the country. On April 21, technology reporter, columnist, and podcasting queen Kara Swisher will sit down with NCLR Executive Director Imani Rupert-Gordon (she/her) and Legal Director Shannon Minter (he/him) to discuss the state of the LGBTQ movement in 2023, the cutting-edge legal work NCLR is taking part in to overturn these discriminatory laws, and the intersectional approach the entire LGBTQ community can use to come together and protect transgender youth and the most vulnerable in our community.
This is an exciting conversation you will not want to miss!
Manny's never turns away someone due to lack of funds. If you need a complimentary ticket, please email the title of the event and the word "grapefruit" to angelina@welcometomannys.com.
Want to support community members? By purchasing a "Pay It Forward" ticket you will allow us to provide free tickets to those who may not be able to afford entry otherwise and ensure we can create a diverse socio-economic audience that represents San Francisco.
ABOUT OUR GUESTS
Imani Rupert-Gordon is the Executive Director of the National Center for Lesbian Rights (NCLR). NCLR is a national legal organization committed to advancing the civil and human rights of lesbian, gay, bisexual, and transgender people and their families through litigation, legislation, policy, and public education.
Previously, Imani served as the Executive Director for Affinity Community Services. Affinity is a social justice organization that works with the entire LGBTQ community with a focus on Black women. She also served as the Director of the Broadway Youth Center, part of Howard Brown Health in Chicago, serving LGBTQ youth experiencing housing instability.
Imani is known for her visionary leadership. In 2021, Imani was included in The Root 100 list, recognizing her as one of the most influential Black leaders in the country. That same year, Imani was also included in a resolution introduced by Congresswoman, Barbara Lee honoring Black LGBTQ individuals throughout history. She was also recently awarded the Judith Butler Award by The Crown Family School of Social Work, Policy and Practice (formally the School of Social Service Administration) for her exceptional promise in the field of social work.
Imani received a Master's degree from the University of Chicago Crown Family School of Social Work and a Bachelor's degree in Sociology from the University of California, Santa Barbara.
Shannon Minter is the Legal Director of the National Center for Lesbian Rights (NCLR), one of the nation's leading advocacy organizations for lesbian, gay, bisexual, and transgender people.
Minter was lead counsel for same-sex couples in the landmark California marriage equality case which held that same-sex couples have the fundamental right to marry and that laws that discriminate based on sexual orientation are inherently discriminatory and subject to the highest level of constitutional scrutiny.
Minter was also NCLR's lead attorney in Christian Legal Society v. Martinez, a U.S. Supreme Court decision upholding student group policies prohibiting discrimination based on sexual orientation and gender identity, and rejecting the argument that such policies violated a student group's rights to freedom of speech, religion, and association. NCLR represented Hastings Outlaw, an LGBTQ student group who intervened to help defend the nondiscrimination policy.
In 2009, Minter was named a California Lawyer of the Year by California Lawyer. In 2008, he was named among six Lawyers of the Year by Lawyers USA and among California's Top 100 Lawyers by the legal publication The Daily Journal. He also received the 2008 Dan Bradley Award from the National Gay and Lesbian Bar Association for outstanding work in marriage cases and was the recipient of the Cornell Law School Exemplary Public Service Award. In 2005, Minter was one of 18 people to receive the Ford Foundation's "Leadership for a Changing World" award. In 2004, he was awarded an Honorary Degree from the City University of New York School of Law for his advocacy on behalf of same-sex couples and their families. Shannon has also received the Anderson Prize Foundation's Creating Change Award by the National Gay and Lesbian Task Force and the Distinguished National Service Award from GAYLAW, the bar association for LGBTQ lawyers, law students, and legal professionals in Washington, D.C., Cornell Law School's Exemplary Public Service Award, the Unity Award from Bay Area Lawyers for Individual Freedom, the Advocacy Award from the San Francisco Bar Association, and the Justice Award from Equality California.
Minter serves on the boards of Faith in America and the Transgender Law & Policy Institute. He has previously served on the American Bar Association Commission on Sexual Orientation and Gender Identity. Minter received his J.D. from Cornell Law School in 1993. He is originally from Texas.
Kara Swisher is the host of "On with Kara Swisher" and the former host of "Sway," the twice-weekly interview podcast about power by New York Times Opinion. She was a contributing Opinion writer at the New York Times since 2018 and writes a weekly newsletter.
Over her career, Ms. Swisher has hosted hundreds of newsmaking interviews, going head-to-head with prominent figures including Elon Musk, Mark Zuckerberg, Rupert Murdoch, Stacey Abrams, Kim Kardashian and President Barack Obama. Her early and no-holds-barred coverage of the technology industry earned her a reputation as "Silicon Valley's most feared and well-liked journalist."
Ms. Swisher studied at Georgetown University's School of Foreign Service, where she wrote her first technology story for the school paper (it was in 1980 — and the technology was pay phones). She subsequently received a graduate degree from Columbia University's School of Journalism, became an editor at The City Paper in Washington, D.C., and interned at The Washington Post, where she worked her way up to reporter and covered nascent digital companies like America Online (a.k.a. AOL).
Ms. Swisher moved to the San Francisco bureau of The Wall Street Journal in the 1990s as one of the first reporters on the internet beat and eventually began her popular "Boom Town" column. With her longtime collaborator Walt Mossberg, she was a co-producer of the technology conference "D: All Things Digital," where they interviewed major tech figures including Steve Jobs and Bill Gates. The duo later founded Recode, which was sold to Vox in 2015.
In addition to her contributions to The Times, Ms. Swisher is an editor-at-large at New York Media, host of the "Pivot" podcast and executive producer of the Code Conference. She is the author of "aol.com: How Steve Case Beat Bill Gates, Nailed the Netheads and Made Millions in the War for the Web," co-author of the sequel, "There Must Be a Pony in Here Somewhere," and currently penning a memoir that will be released by Simon and Schuster in 2022. She has previously appeared and consulted on "Silicon Valley," a show by HBO, which is now a part of WarnerMedia, and also hosts a companion podcast for season three of HBO's "Succession."
She currently lives in Washington with her wife, various cats and dogs, and her three children.