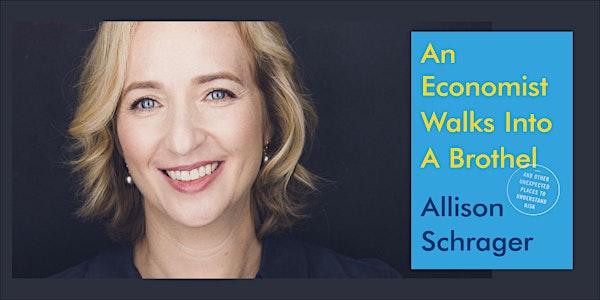 (Postponed) A Book Talk with Allison Schrager
What can we learn from the world's most unusual risk takers?
When and where
Location
Columbia Business School, Room 141 Uris Hall, Room 141 3022 Broadway New York, NY 10027
About this event
INDEFINITELY POSTPONED: Due to the current public health situation and Columbia University's guidelines on campus events, this book talk has been cancelled as originally scheduled. We apologize for any inconvenience, and hope to reschedule the event in Fall 2020.
What can paparazzi, extreme surfers, professional poker players, and sex workers teach us about risk? Join the Richman Center in a book talk with Allison Schrager to explore this and other questions about risk.
Allison Schrager is an economist, award-winning journalist, and author of An Economist Walks into a Brothel: And Other Unexpected Places to Understand Risk. Allison, who holds a PhD in economics from Columbia University, returns to her alma mater to discuss her latest book and what it can teach us about managing risk, understanding uncertainty, and maximizing positive consequences. The conversation will be moderated by Jeremy Weltmer, MBA '20.
About Allison Schrager
Allison Schrager is an economist, journalist at Quartz, and co-founder of LifeCycle Finance Partners, LLC, a risk advisory firm. Allison diversified her career by working in finance, policy, and media. She led retirement product innovation at Dimensional Fund Advisors and consulted to international organizations, including the OECD and IMF.
She has been a regular contributor to the Economist, Reuters, and Bloomberg Businessweek. Her writing has also appeared in Playboy, Wired, National Review, and Foreign Affairs. She has an undergraduate degree from the University of Edinburgh and a PhD in economics from Columbia University. She teaches at New York University and lives in New York City.
This event is open to the public and on the record. Registration is required to attend. By attending, you consent to appearing in any photos or videos produced by the event organizer or affiliated third parties. No personal recordings are allowed. If you have any questions or concerns, please contact us in advance at richmancenter@gsb.columbia.edu.