Multiple Dates
PostMilitary - Monthly Participant Driven Virtual Career Networking Meetup
Pure, organic, 100% participant-driven virtual career development Meetups for military. Join us Thursday, March 11, 6:00 PM Central
About this Event
Welcome to PostMilitary! We are vibrant community of career-minded professionals engaging in meaningful conversation throughout a collection of open virtual huddles on the Zoom platform.
Our vision is to drive engagement in a virtual world aimed at helping people find; "The magic that happens when the fear, uncertainty, and doubt of career transition is overcome by optimism and belief in life after military."
These are open FREE meetups for Transitioning Military, Military Spouses, and Veterans. Our passion, our mission is helping people achieve the success they desire!
Our next event is Thursday, March 11, 6:00 PM Central
Monthly Participant Driven Virtual Career Networking Meetup
We are launching a monthly virtual career development meetup that closely resembles the experience of being at a networking event in person. Our target audience is Transitioning Military, Veterans, and Military Spouses. We want to empower you to walk in, use a concierge if needed, roam at will, introduce yourself, ask questions, provide perspective, and engage in a real conversation. Our next meetup will be Thursday, March 11, 6:00 PM Central. We will meet on the second Thursday of every month. These events will be offered at no cost.
Sound chaotic? Good networking events are. We believe this will be a powerful experience. We want these meetups and really everything we do to be about YOU! You drive the conversation, engagement and set the agenda. We will have a Concierge to help guide you on your journey.
The Zoom platform has added the capability for participants to move in and out of breakout rooms and the main room at will. You can plan ahead or ask your Concierge for input.
Thank you for considering joining our event. We look forward to serving you.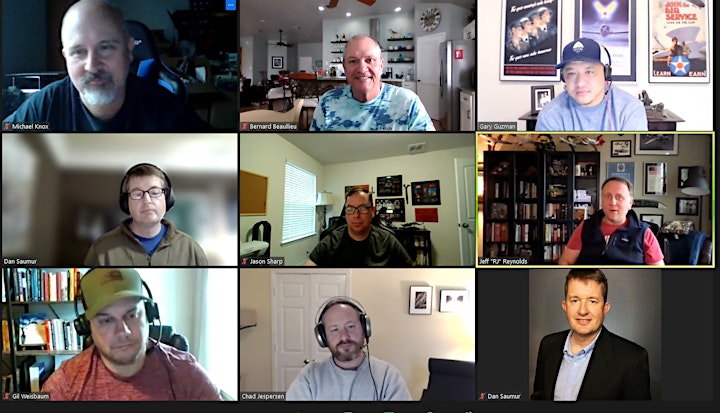 The PostMilitary Team
The image above is from the Saturday Morning Virtual Meetups our group has had over the last year. What started as a weekly follow up to the Spring 2000 FourBlock Sessions has turned into a very engaged collaboration between great friends.
The PostMilitary team first row, from the top left; Michael Knox, Bernard Beaullieu, Gary Guzman, second row; Dan Saumur, Jason Sharp, Jeff Reynolds, third row; Gil Weisbaum, Chad Jespersen. Not pictured, Victor Flores.