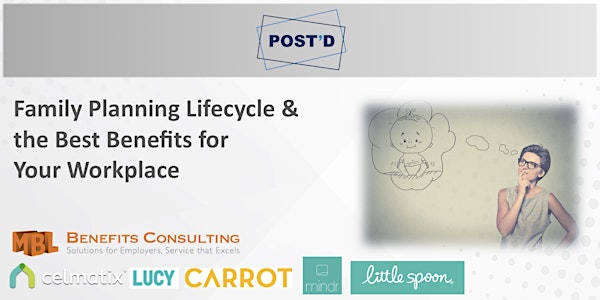 Post'd: Family Planning Lifecycle & the Best Benefits for Your Workplace
When and where
Location
241 Centre Street 5th Floor (between Broome & Grand Street) New York, NY 10013
Description
Family planning has become an essential topic in the workplace. From the impact on employees to the benefits that an organization makes available, there's a wealth of tools and resources available to offer support for your company and its employees.
Join us as we discuss the complete paradigm of family planning; from fertility questions and concerns, to parental leave, through the "fourth trimester" and finally returning to work.
We will have a panel of experts from companies including Celmatix, Lucy, Carrot, Mindr and Little Spoon, speak about their experience working with companies to address:
Building a supportive culture for family planning (manager training, communications)
Resources for fertility issues
Getting ready for parental leave
Pre-natal coaching and support
Post-pardem coaching and support
Transitioning back to work from leave
Tools, technology and resources for family planning
As always we will kick things off networking with senior level people professionals, and of course drinks and dinner will be served!