Description
If and when this event sells out, sign up here for overflow seating.
Registration required for every person in attendance. Limited number of tickets available. Donations do not count as registration. Do not register unless you will for sure attend. If you are unable to attend, please cancel your registration immediately.
When is the rapture? Who are God's chosen people? What is the battle of Gog and Magog? Many questions about the end times have controversial answers, meaning most pastors are afraid to come out and speak the truth. That's why we at Framing the World are hosting the Post-Trib Bible Prophecy Conference.

This November 2-4, head down to Phoenix, AZ, to attend a three day, action packed conference with red-hot preaching dealing with end times Bible prophecy. With over 11 guest speakers, loads of sermons, and hundreds of like-minded Christians in attendance, this event is sure to be the greatest conference you've ever been to!
We have several goals with this event. First, obviously, we want people to learn the truth about the end of the world. Secondly, we want other pastors and Christians to see that there are others who believe like them, even when they feel alone. Thirdly, we actually plan on making a DVD series out of all the sermons preached, to create a set with sermons covering a whole range of subjects.
You don't want to miss out on this powerful conference. Mark the calendar, because this is going to be big!

Speakers (so far):

Pastor Steven Anderson
Pastor Roger Jimenez

Pastor Joe Major

Pastor Tommy McMurtry

Pastor Dave Berzins

Pastor Michael Johnson

Pastor Donnie Romero

Evangelist Garrett Kirchway
Pastor Jason Robinson
Pastor Wesley Tomlinson

Pastor Kenneth McCraney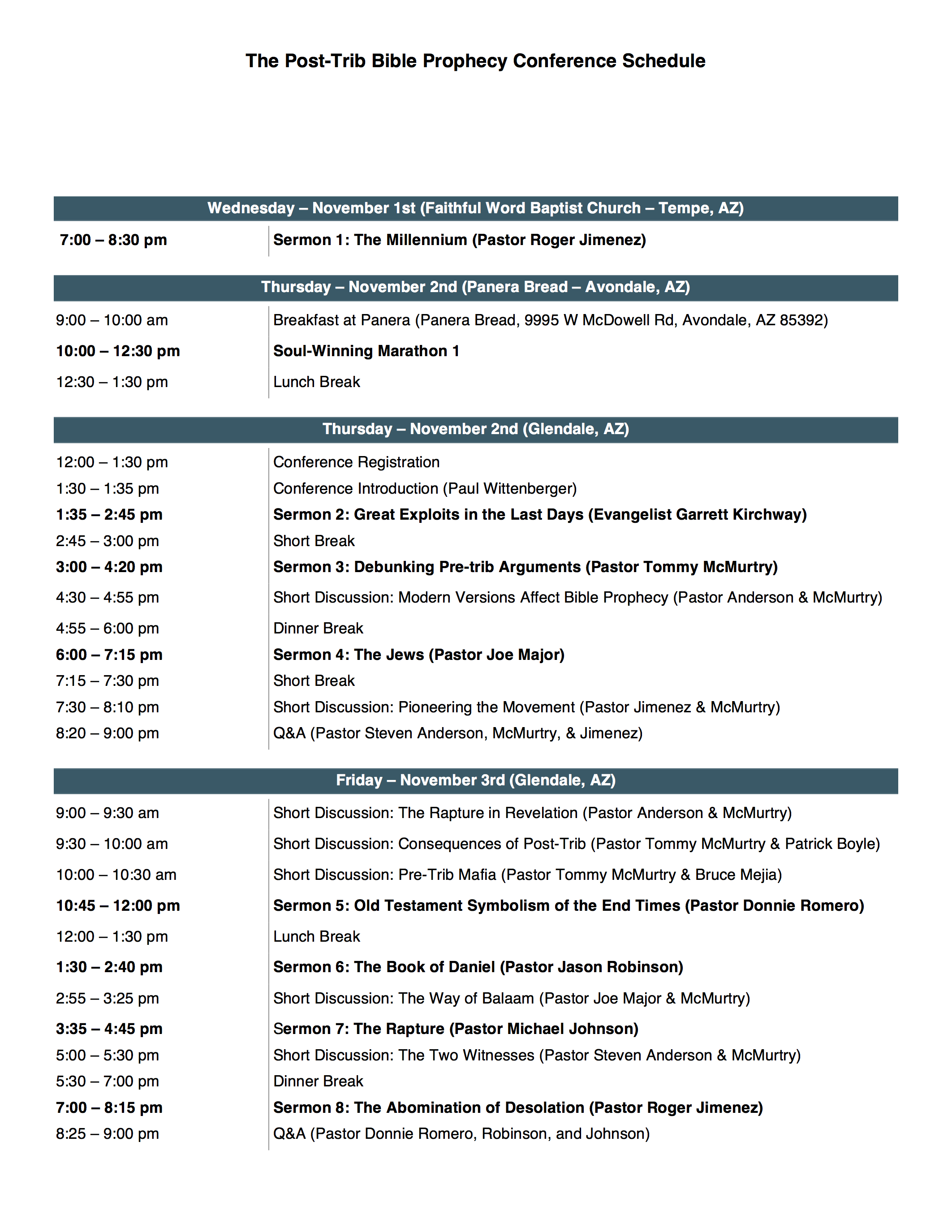 FAQs
Is the event free?
Yes, absolutely. However, you must register to attend. We are also accepting donations to help offset the cost, but a donation is not required.

How many people can attend?
450, no more. Registration is required; when tickets run out, that's it.

Who is responsible for this event?
Framing the World. Although Pastor Steven Anderson and much of FWBC will be present, they are not putting on the conference.

Where is the event location?

Due to past experiences with fags shutting our events down (South Africa, anyone?), we are not announcing the conference's location until right before it happens. However, if you need to book hotels or something, we will be within spitting distance of the Gila River Arena in Glendale, AZ.

Is it ok if the name on my ticket or registration doesn't match the person who attends?
No. However, if plans change, you can cancel your registration and/or register another person, no problem.

I'm hungry. Will there be free food?
Not really. FWBC will provide free breakfast for soulwinners on Thursday and Saturday, but that's it. We will have snacks being sold; but if you want a meal, bring your own.

Who do I contact for questions?
Contact us at Framing the World. This is the only place to email if you have any more questions.