| | |
| --- | --- |
| Post-Sales for An Overview Innovative Business Models | |
Event Details
If you missed the live session, you can still get access to the video and full presentation slides for just $10!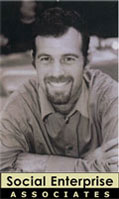 Are you interested in different business models for social enterprises and growth? 
Do you plan to launch a new enterprise, and need a guide to the rapidly-expanding number of different corporate forms and enterprise types? 
Do you need more information to ensure your organization is operating under the optimal legal structure? 
Join us for an overview of innovative business models, including new emerging options and mixing multiple legal structures. This practical, case-focused session will provide attendees with tools to make informed choices in social enterprise structures. Drew Tulchin of Social Enterprise Associates will lead the hour-long webinar, and attorney Howard Finkelstein will provide case examples and a comparative legal perspective. 
Registrants can send questions and topic suggestions in advance to shape the session to address their needs, with ample time provided in the session to answer specific attendee questions. 
Registrants will be provided access to a full session video recording and printable presentation slides to keep for their reference.
Organizer
Since its inception as The National Gathering for Social Entrepreneurs in 1998, the Social Enterprise Alliance (SEA) has been the champion and key catalyst for the development of the social enterprise sector in the United States. Our vision is for social enterprise to reach its potential as a force for more effective and sustainable social impact. We empower social enterprises with the tools and resources they need to succeed, and work to foster a social enterprise ecosystem in which they can thrive.