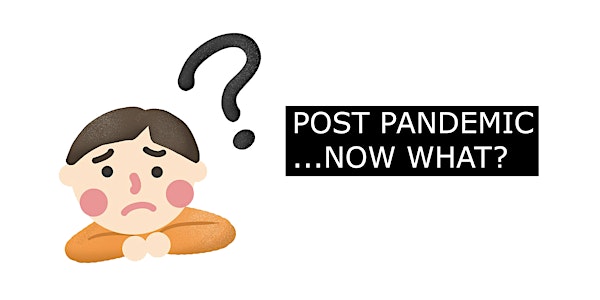 Sales Have Ended
Ticket sales have ended
Thank you for registering! We'll see you on July 23 at 7pm.
Medical professionals from allopathic and alternative fields of practice help guide you to recover body, mind and spirit post-pandemic.
About this event
Part 1 of a new series: POST PANDEMIC ... NOW WHAT?
Many of us have suffered grief from the loss of loved ones, are still recovering from being ill, have coped with loneliness, sadness, guilt, sorrow, loss of a job, or income, and much more. This seminar is geared to get you restarted, to help you regain momentum, clarity and choices going forward.
My name is Dr. Denise Galon. I am an alternative doctor specializing in Eastern Medicine, specifically herbals and therapeutic grade essential oils. I have a practice in New York City called Divine Wellness / Head Massage NYC that opened in 2002, when I became certified to teach Indian Champissage (head massage), which I brought into the country in 1996, as part of my Ayurvedic Practice.
I began working with Asian Medicine in the 80's when I was an opera singer, mainly to keep myself healthy as I traveled. That career afforded me the opportunity to work with many great healers all over the world. I also added the Young Living Therapeutic Grade Essential Oils to my practice in 2002, when I observed the rapid response with patients from the living oils, rather than the slower response from the dried herbs.
With a doctorate in Metaphysics, I observed how people draw illness from negative thinking and behavior. It explains why some people can be exposed to illness and get sick or not. Positive feelings or emotions can keep us well, while negative feelings can cause the opposite. When I work with a patient, I look at everything and try to find the key to getting the person back on track to wellness through positive nutritional, physical and mental choices.
The Pandemic has been brutal on society, shutting down businesses, keeping family's apart, stopping joy. As we go back, or create a new existance, it can be helpful to have some tools to guide us to healing more rapidly. That is why I designed this seminar series.
I have collected a group of respected professionals who can help you get back on track. These professionals helped me over the years, when I needed a reminder of good health practice. But most importantly, they helped me to recover from Covid19, which I got in October AND December 2020. By then, I had enough, and let my guard down by stopping my meditation, consuming rich food, going into anger and fear from the political arena, adopted bad sleeping habits, excessive TV watching, and (the biggie) loneliness.
I am back better than ever, because of my positive change from excellent guidance by my peers. This first of the series will be Friday, July 23, 2021 at 7pm EST and features two highly respected doctors, an internist, Dr. Daniel Silverstein MD, and an amazing Chiropractor, Dr. John Ward. Please have a look at their bios below.
We will discuss the physical, mental and spiritual dis-ease that the Pandemic caused and how to make the necessary changes to heal, and get back to a super life. There will be time to answer all your questions. The cost of the seminar is only $47. It's a chance to get to know a specialist without the high cost of a visit. There will be bonuses for all who are on the zoom call.
Act now to restart your life on a positive track ...
Dr. Daniel Silverstein MD is the founding member of Celevitae Medical. He is board certified in internal medicine and is practicing in Morristown, NJ. He is a graduate of SUNY Downstate Medical Center and completed his residency in Internal Medicine at Beth Israel Medical Center.Dr. Silverstein began his career as a hospitalist. However he wanted to go beyond treating only the acute medical condition and continued his training with the Program in Integrative Medicine through the University of Arizona. He utilizes both conventional diagnostic and treatment modalities as well as complementary modalities including nutritional, herbal and nutraceutical supplementation.
In the office setting he treats many conditions including hypertension, hyperlipidemia, and metabolic syndrome. Dr. Silverstein is a participation medicare provider and is available for house calls. To make an appointment please call (973)644-5102.
Dr. John Ward graduated with honors from Life College School of Chiropractic in December of 1994. He began practice at Madison Avenue Chiropractic Center from Apirl 1995 to December 2004 when he opened his private practice. He returned to Madison Avenue Chiropractic Center in July 2017 and practices there currently.Dr. Ward's practice take a wellness-oriented approach to health care. "My mission," he states, "is to direct people to the realization that they are activated from within, that life and healing come from within and that ultimately the maintenance of health is superior to the treatment of disease." To achieve that goal his practice incorporates a variety of different disciplines including nutrition, acupuncture and most importantly Chiropractic.A noted speaker, Dr. Ward's topics include talks on aging, stress relief, nutrition, child development and women's health issues. A list of available talks and an overview of his practice can be found on his website at www.drwardchiro.com.